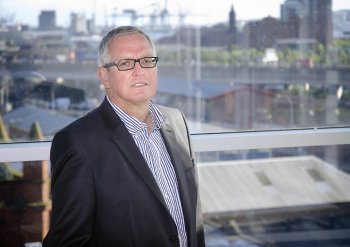 Leading architect and academic Professor Peter Walker has been appointed Head of School of Architecture and Design at the University of Ulster.
He built up a distinguished career in practice, working in a number of highly respected international companies most recently Devereux Architects, part of the Dublin-based PM Group where he held the post of Regional Managing Director before joining Ulster full-time in September last year.
Devereux is a company of architects and urban designers with 250 staff which specialises in the design of complex buildings in the healthcare, university, pharmaceutical and life sciences sector and is among the top 20 UK architectural practices in the 'Building Magazine Annual Survey 2011'.
Alongside this post Professor Walker was also formerly a senior lecturer in Architecture at Newcastle University.
Prior to joining Devereux, he was Director of the Architecture and Interiors Division of the leading international design consultancy, the Conran Design Group, and was involved in the design of the Conran shop in London.

Professor Walker has also worked on major development projects in Africa as part of his academic research and scholarship work.
As an advisor to the Egyptian Housing and Building Research Institute , he was instrumental in helping to draw up a code of practice for designers which encouraged them to create more sustainable buildings.

Professor Walker produced a masterplan for Ghana's fourth university, which was based on an African concept using local materials and local expertise– rather than the long accepted European/colonial blueprint for such buildings.
Professor Walker has been a member of the Architects Registration Board (ARB) Practice Advisory Group and is currently a member of the Council of the Royal Society of Ulster Architects.

Commenting on his appointment, he said he hoped his senior management expertise would impact on the success of the School of Architecture and Design.
He said: "Design at Ulster – and its predecessor, the Belfast College of Art – has a strong and highly respected tradition. Since establishing the architecture courses the School has grown both in size and strength.
"I believe there is no limit to just how good the School of Architecture and Design can become.
"We have recently completed a strategic review which has resulted in a number of important changes for this academic year.
"Our courses have been redesigned to ensure the School is much more permeable and inclusive, with students and lecturers from different areas now teaching, talking and researching together.
"We will focus a lot more on making opportunities, teaching our students to be enterprising and to be advocates for what they do.
"Our School can't just be a laboratory for creativity which exists in a vacuum – it has to engage with the local community and its people.
"We will also bring our considerable research and scholarship directly into our teaching and into developing new Masters courses."
Professor Ian Montgomery, Dean of the Faculty of Art, Design and the Built Environment at Ulster, said the Faculty was delighted to welcome Professor Walker to his new role.
He said:"Peter brings considerable international experience in high level professional practice and architectural management, as well as a breadth of experience in architectural education and professional body engagement.
"The Faculty looks forward to Peter's leadership of its innovative School of Architecture and Design where he was previously Associate Head of School."
ENDS