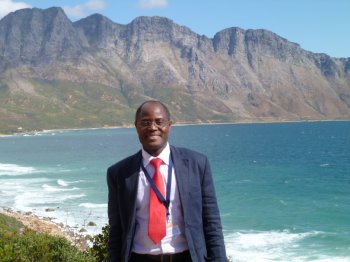 A University of Ulster lecturer has received a prestigious award for his research on merging academic courses and professional qualifications.
Dr James Uhomoibhi, based in the Faculty of Computing and Engineering, won the 'Best Paper Award' out of 160 peer-reviewed entries at the prestigious International Conference on Engineering Education (ICEE) conference in Finland.
His paper, co-authored with Margaret Ross from Southampton Solent University, discusses the practical issues of integrating professional and industrial qualifications with academic courses.
He said: "In our paper we considered issues of collaboration between academic, industry and professional organisations and outlined benefits of engineering professional development and economic growth for employment and sustainable development.
"This award means a lot to us. Firstly it demonstrates that our collaborative work with professional bodies and industries are relevant and lead to good results.
"Secondly, it is important for education and business to have a joined up approach in developing skills for the workforce. Such initiatives have the potential to enhance professional competence in the sectors and provide models of best practice directed at professional development, improved productivity, economic growth and sustainability.
"This positions the University of Ulster high in the world of engineering education and research and showcases how we are pushing the frontiers of research."
The ICEE-2012 is a world-renowned event attended by engineering education practitioners, business and public sector representatives from all over the globe. Delegates from the USA, Taiwan, South Korea, India, Africa, China and Russia were among those attending the international conference co-hosted by three highly placed universities in Finland.
The University of Ulster hosted last year's conference at the Waterfront Hall in Belfast.
Dr Uhomoibhi was also recently honoured with a Distinguished Service Award at the African Leadership Excellence Awards in Dublin.
These Awards recognise the performance of individuals or organisations that have contributed immensely to the advancement of the developmental sector of Ireland and Africa.
This year's ceremony saw recognition of the work undertaken by Dr Uhomoibhi over more than 25 years in Ireland and Northern Ireland. His work has involved development activities and service to several countries in Africa in his capacity as African Laser Centre Representative in Europe, LEADS Scholar in Nigeria and several other collaborative works in other countries including Kenya, Ghana, Uganda and South Africa.
In accepting this Award Dr Uhomoibhi said: "I view this Award as a tribute not just to my work but also to my family and indeed to all well meaning Africans in this island of Ireland. It signals a call to duty and reinforces the need to lead by example as a humble servant leader. It is my hope that we aspire to serve our communities well while not forgetting our roots."
The ceremony at the Red Cow Moran Hotel in the Dublin City was well attended by Mayors and Ambassadors from different African countries, businesses and celebrated voluntary sector organisations.
Ends
Caption: Dr James Uhomoibhi