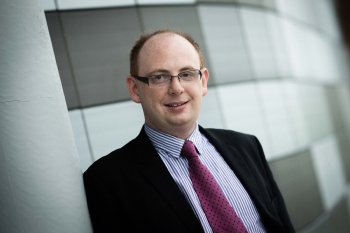 Dr David Barr, Head of the School of Modern Languages
The University of Ulster has welcomed a report suggesting that Northern Ireland needs to give higher priority to learning foreign languages.
The study, released by the British Council today, said that Northern Ireland, in line with the rest of the United Kingdom, was not producing the volume of linguists likely to be needed by its businesses in the near future.
The report also pointed to the lack of linguists in Asian languages and a wider range of European languages.
Dr David Barr, Head of the School of Modern Languages at Ulster, said: "The ability to speak other languages makes business sense. Ulster has expanded its provision in recent years, offering a suite of business language modules and short courses. A number of key local businesses including Michelin, Moy Park, Bombardier and Wrightbus have already signed up to these.
"At undergraduate and postgraduate level, we are committed to providing professional language for professional life, especially in the area of translation and interpreting.
"We are the only university in Northern Ireland to offer German at degree level, and we can help the Northern Ireland Executive and the business community address the gap in language skills identified in the British Council report."
Professor Pól Ó Dochartaigh, Dean of the Faculty of Arts at Ulster and President of the Association for German Studiesin Great Britain and Ireland, added: "There has never been a greater need than there is nowforgovernment, business and education to work together topromote the learning of languages.
"It is incumbent on all of us who work for the future of our society to develop a strategic approach to this issue."
In September 2011 Northern Ireland's only Confucius Institute was established at Ulster (CIUU), which is enabling the University to significantly expand its Chinese language and cultural teaching.
Like the 385 other Confucius Institutes operating in universities in 150 countries worldwide, CIUU encourages private and public sector companies and organisations who want to trade with China to study the language, the business culture and its customs to gain a competitive edge.
It will also act as a catalyst for the further development of business links between China and Northern Ireland.