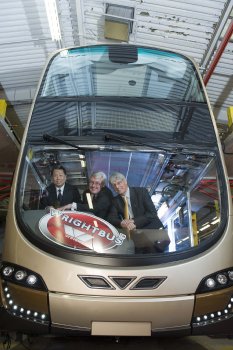 James C Louey, Commercial Director, Kowloon Motor Bus Co. Ltd., Professor Pól Ó Dochartaigh, Dean of the Faculty of Arts, University of Ulster and Mark Nodder, Wright Group Managing Director
The University of Ulster has teamed up with leading manufacturer Wrightbus to equip its employees with the language skills they will need to do business with China.
Employees at the Ballymena-based company are taking part in an innovative Chinese language and cultural awareness course delivered by the Confucius Institute at the University of Ulster (CIUU) in partnership with the School of Modern Languages.
Wrightbus is the latest Northern Ireland firm to sign up for the new business language programme launched by the University last month.
Professor Pól Ó Dochartaigh, Dean of the Faculty of Arts, said: "China's economy is expanding rapidly. It has become the second strongest economy in the world and there is every chance that it will become the strongest economy in the world.
"China is seeking to engage with the wider world, and we have to engage with them. As part of that, learning about the language, the culture and the way China does business is the key to developing links with China."
Steve Harper Business Development Director, Wrightbus International, said: "China and the special administrative region of Hong Kong have for 12 years played an integral role in our business.
"As we seek to expand Wrightbus International's presence globally it has become imperative that our employees become familiar not just with the culture but also the language of business in China.
"The Confucius Institute has allowed us to configure a programme which equips our employees with the basic skills required prior to taking up residence in Zhuhai, China."
In September 2011 Northern Ireland'sonly Confucius Institute was established at Ulster (CIUU), which enabled the University to significantly expand its Chinese language and cultural teaching.
Like the 385 other Confucius Institutes operating in universities in 150 countries worldwide, CIUU encourages private and public sector companies and organisations who want to trade with China to study the language, the business culture and its customs to gain a competitive edge.
Professor Pól Ó Dochartaigh added: "The Confucius Institute promotes the teaching of Chinese language and culture and facilitates research into China's education system, economy, the arts and society.
"It also acts as a catalyst for the further development of business links between China and Northern Ireland. We look forward to working with Wrightbus to ensure that Northern Ireland firms gain maximum benefits from this exciting new initiative."
For further information on the University of Ulster's Chinese for Business courses email Lorraine Lavery-Bowen at: l.lavery-bowen@ulster.ac.uk or phone: 028 90366695.