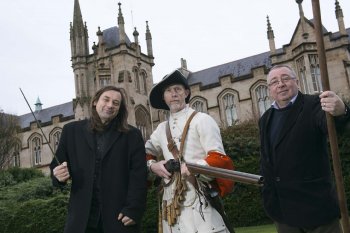 TwoUniversity of Ulsteracademics are part of a new Irish language TV documentary that looks at the story behind the construction of Derry's walls - a unique, sometimes controversial cultural treasure that has shaped history both within and beyond the walled city itself.
'Ballaí Dhoire', presented by Fearghal Mac Uiginn, will be broadcast on Monday, November 26 on BBC Two NI at 7pm,and will exploreDerry~Londonderry'smonastic origins prior to the construction of the walls just under 400 years ago and follows the transition from Derry to Londonderry in 1613.
Contributors includethe University of Ulster's,DrBilly Kelly, Lecturer inHistoryand Dr Éamonn Ó Ciardha, Senior Lecturer inHistoryandco-editor of'The Flight of the Earls'(2010) and the'Plantation of Ulster'(2012).
Dr Kelly,a Derry native and historian based in the Magee campussaid: "As a Derry man myself, I grew up in the shadow of the walls, they were our playground as children, and the sense of wanting to know more about them inspired me to study the history of Ireland and Britain in the 17thcentury.
"The walls are still of enormous importance in the city today, they are afocal point for so many events, not least the successful bid for UK City of Culturewhich was based on the 400thanniversary of the Plantation of Ulster.
"My colleague, DrÓ Ciardhaand I delivered a series of conferences, books and articles to revisit those events as part of this process. Of course, the city wallsare, with St Columb's Cathedral,the most tangible evidence of the importance of the heritage of the Plantation for all of us."
Thetelevisionprogramme begins by looking at Derry~Londonderry's 1,000-year-old monastic tradition and its historic association with St Colmcille (Columba), one of Ireland's threepatronsaints.
While it is not certain if Colmcille actually founded Derry in the 6th century, as is often claimed, what cannot be denied is that Derryemerged asa monastic site of huge importanceand a key house of the Columban confederation.
The second partof the programme looks at Derry~Londonderry's transition from a monastic site to a disputed colonial citadelduring the 16th and 17th centuries. Derry~Londonderryemergedas ancrucialstrategic location because of its proximity to Lough Foyle and to the Gaelic kingdoms of Tír Chonaill and Tír Eoghain.
The programme uses CGI and reconstruction to show aspects of Derry's history and architecture from this period.
Derry's walls,completed in 1618 were designed to protect thenewly-arrived English and Scottishplanters. The city came under attack in 1649, and again in 1689 when it withstood the famous siege of Derry, an incident that changed the course of history in Ireland and beyond.
Dr Kelly added:"Itis ironic to recall today,thatwhat was once built to exclude,now draws the people ofDerry~Londonderry together in a celebration of their history, culture and heritage."
Ballaí Dhoire, will be broadcast on Monday, November 26 on BBC Two NI at 7pm.
Caption: Dr Éamonn Ó Ciardha (left) and Dr Billy Kelly (right) from the University of Ulster are pictured on the Magee campus with university librarian, Frank O'Deorain who is dressed in Earl of Antrim regiment uniform similar to that worn during the famous 1689 siege of Derry
Media enquiries:
Audrey Watson
Media & Corporate Relations
University of Ulster
T:028 90366386
E: a.watson1@ulster.ac.uk
Notes foreditors:
Ballaí Dhoire is a Dearcán Media Production for BBC Northern Ireland, with support from Northern Ireland Screen's Irish Language Broadcast Fund.
Other contributors to the documentary include: Dr. Brian Lacey, archaeologist and director of the Irish Discovery Programme; Fr. Ciarán Ó Doibhlinn, historian and archivist with the Diocese of Derry (who passed away shortly after the programme was completed); Dr. Annaleigh Margey, an authority on early Irish cartography, currently working in the National Library of Ireland; Dr. Pádraig Lenahin (NUIG), a military historian with a particular interest in late 16th and early 17th century Ireland; Professor James Stevens Curl (official historian of The Honourable, The Irish Society), Edward Montgomery, local secretary of the Irish Society; Dr. Micheál Ó Siochriú (TCD); and Jim Brownlee, the current Governor of the Apprentice Boys of Derry.