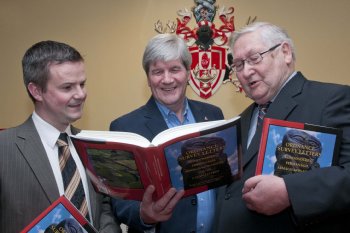 Dr Malachy Ó Néill, Head of the School of Irish Language and Literature, Joe Mahon, and Professor Michael Herity
A new book of letters written during the making of the ordnance survey maps has been launched at the University of Ulster's Magee campus.
'The Ordnance Survey Letters: Londonderry, Fermanagh, Armagh-Monaghan, Louth, Cavan-Leitrim', edited by Professor Michael Herity, was launched by television presenter Joe Mahon, at a special event organised by the School of Irish Language and Literature.
The book is a collection of letters from John O'Donovan, a scholar from Kilkenny who travelled across the north of Ireland from 1834 collecting place names for Ordnance Survey maps.
The letters tell the story of the places he visited, the people he met and the experts he consulted.
Speaking at the launch, Professor Pól Ó Dochartaigh, Dean of the Faculty of Arts said: "Professor Herity is one of Ireland's foremost scholars in the Humanities and a Member of the Royal Irish Academy. This scholarly edition of the vastly important letters written by O'Donovan during his fieldwork is a major contribution to Irish scholarship, and I am delighted that Professor Herity has come to Magee to launch this book."
Dr Malachy Ó Néill, Head of the School of Irish Language and Literature, added: "This publication relates directlyto the people and places of the north-west and the large turnout illustrates the level of public interest in research in this field. We were particularly pleased to welcome distinguished author and dramatist Brian Friel, whose work has inspired Professor Herity himself, as it has everyone involved in Irish Studies."
Joe Mahon, presenter of popular television series 'Lesser Spotted Ulster', said: "These letters are a joy to read – erudite, witty and wise - they give a real sense of life in the 1830s as O'Donovan travelled across the countryside in search of ancient knowledge that he has preserved and handed on to this generation.
"Michael Herity's book is a beautiful and important record of O'Donovan's travels in these counties and although it's patently a work of great scholarship, it actually reads like a fast-paced narrative."