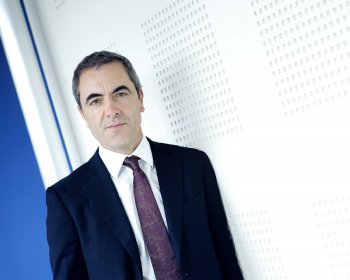 University of Ulster Chancellor Dr James Nesbitt
University of Ulster Chancellor Dr James Nesbitt is to pass on his expertise to a new generation of actors during a tour this week of the University's campuses.
Dr Nesbitt will embarkon Tuesday (November 6) on a two day visit to the Jordanstown, Belfast, Magee and Coleraine campuses where he will meet students and staff and witness at first hand the pioneering scientific research that is taking place at Ulster.
Among the highlights of the visit will be a question and answer session on the Magee campus on Tuesday for Drama and Media Students.
Over the two days, the Chancellor will also meet staff involved in the development of Connected Health, sustaintable technologies, digital animation, nursing and biomedical sciences.
On Tuesday evening he will reflect on his career during a special 'James Nesbitt in Conversation' event on the Coleraine campus at the Riverside Theatre which is celebrating its 35thbirthday.
As he prepared for this week's tour of the campuses, Dr Nesbitt spoke of his pride at being associated with the University.
"One of the honours I am most proud of is my installation as the Chancellor of the University of Ulster at the Riverside Theatre in June 2010,' he said.
"Over two years later, I still feel really privileged to have been asked by the University to take on this role.
"Ulster is a forward looking institution which is playing a vital role in ensuring Northern Ireland has graduates who are properly equipped with the knowledge and skills needed to develop a flourishing economy.
"Our world class research institutes and our Office of Innovation are developing ideas which make a real difference to people's lives and contribute to the economy through the development of spin-out companies.
"The University has made a significant contribution to the cultural and sporting life of Northern Ireland, producing an impressive array of artists, actors, journalists, animators and filmmakers.
"The University's sports teams continue to distinguish themselves in competition and our £13 million High Performance Centre in Jordanstown has been used as a training base by Olympic medal winning boxers and Paralympic Gold medalists, leading European Tour golfers, GAA stars and the Ulster Rugby squad.
"Our students and staff are connecting Northern Ireland to the rest of the world through academic and research links developed with other leading universities, by promoting international conflict resolution through INCORE and teaching Mandarin Chinese and other languages through the Confucius Institute and School of Modern Languages to businesses wishing to build export markets.
"And through its visionary development plans for the Belfast, Magee, Coleraine and Jordanstown campuses, Ulster is offering communities a chance to raise aspirations and get involved through the university in the development of their cities, towns and their region.
"I am very excited about the University's plan to develop a state of the art campus in Belfast city centre – which not only makes educational sense but economic sense if the city is to develop properly. I am also excited about the University's ambition to grow student numbers at Magee, redevelop Jordanstown and consolidate world class research and teaching and learning activity in Coleraine.
"I'm very much looking forward to meeting this week some pretty extraordinary people at the University of Ulster who are making an incredible contribution to Northern Ireland and the world."