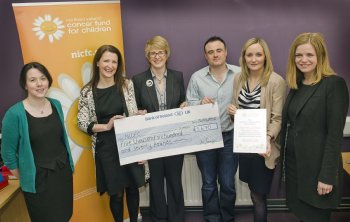 University of Ulster research about peace walls has produced a financial spin-off for two Northern Ireland charities.
The results of a research study into people's opinions about the towering stone divisions, which first appeared along sectarian interfaces in the early days of 'the Troubles', will be published in the summer. However, due to the public's generous response to it, the project is already paying dividends for the two charity groups – in the shape of cheques totalling more than £8,000.
In March more than 1400 people across Northern Ireland took the opportunity to record their views via a postal survey.Everyone who participated was offered a £10 voucher to thank them for their time, or they could choose to donate it to one of the nominated charities- the Northern Ireland Cancer Fund for Children or PIPS-Public Initiative for the Prevention of Suicide and Self-harm.
More than half opted to donate the money and this weekin Belfast the University research team handed the cheques over to both groups.
Professor Gillian Robinson, Director of ARK at the international peace and conflict research centre, INCORE, at the Magee campus, said: "We owe an enormous debt of gratitude to everyone who took the time to give us their views in this survey. Wewant to say a very sincere 'thank you' as well to all those who opted to donate the voucher to charity. Weare very happy to hand over those donations: £5670 to the Northern Ireland Cancer Fund for Children and £2380 to PIPS."
Dr Cathy Gormley Heenan, Director of Institute for Research in the Social Sciences, who is based at Jordanstown, said: "We were overwhelmed by the generosity of the Northern Ireland public and know these donations will help with the valuable work being carried out by these charities."
Maureen Treacy, Managing Director at Perceptive Insight, which administered the survey, said: "We are delighted with the level of response to the survey. It was refreshing to see that so many people chose to donate their incentive to these well deserving charities."
The nominated charities were delighted with the public's generousity. Ruth Hobson from NICFC said: "We are delighted that the University of Ulster research team selected us as one of their nominated charities.This donation will enable us to continue to provide vital practical, emotional and social support to children, teenagers and young people diagnosed with cancer in Northern Ireland. Thanks to the generosity of the NI public we can continue to make a real difference to families throughout their cancer journey."
Jennifer McGeown from PIPS said: "We have just moved to new premises and desperately needed some additional funds to finish off our offices.This donation will enable us to do that and allow us to focus on our work on suicide prevention and to help raise awareness about suicide."
Dr Jonny Byrne, a Lecturer in School of Criminology, Politics and Social Policy, at Jordanstown, added:"The research findings are currently being analysed and the report will be published and widely disseminated in the summer. We hope the findings will ensure that public opinion feeds into the ongoing debates about how peace walls should be managed into the future."
The research wasfunded by the Office of the First Minister and Deputy First Minister.
Caption: Cheque presentation to Northern ireland Cancer Fund for Children, from left, Ruth Hobson, NICFC, Dr Cathy Gormley Heenan, University of Ulster, Professor Gillian Robinson, University of Ulster, Dr Jonny Byrne, University of Ulster, Dawn Weir, NICFC, and Maureen Treacy, Perceptive Insight.