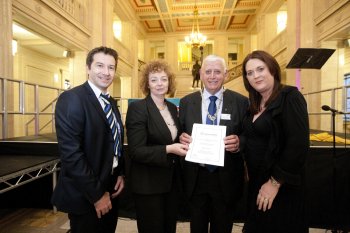 A project challenging sectarian and racist attitudes, delivered by the University of Ulster, has won a prestigious Olympic award.
The North East PEACE III Sport for Peace Building initiative is one of the select few to be presented a bronze medal in the "Award for Creative Cultural Project" category at the Olympic Podium Awards.
The Podium Awards recognise the vital role colleges and universities across the UK have played in delivering the London 2012 Olympic Games.
The team behind the hugely successful PEACE III project joined in national celebrations today, on the UK Inspire Mark Day.
Kyle Ferguson from the Ulster Sports Academy said: "The project's objective was to encourage people to become fully engaged in activities not normally associated with their community background, while using sport as a medium to develop understanding of other cultures. This practical involvement in a safe environment helped to build trust and challenge negative perceptions and attitudes about others."
UK Inspire Mark Day marks the start of celebrations for over 2,700 projects that have been inspired by the Games to do something special in their local communities.
These projects have been awarded the Inspire Mark and become one of the London 2012 programme's exceptional family of projects. This summer the Inspire projects will be holding events and celebrations all over the country – along the Olympic Torch Relay route, in and around venues, at Live Sites and much more.
DCAL Minister Carál Ní Chuilin presented the Bronze Award to the project team including Patricia O'Brien, from Coleraine Borough Council and PEACE III Manager at a recent Stormont reception.
She said: "We are delighted to receive this award. It is recognition of the hard work and commitment of our project team. The project focuses on engagement, empowerment and legacy, using sport as a medium to improve trust and cultural understanding, while developing partnerships and creating shared spaces."
"The project is working across the six council areas of Coleraine, Limavady, Ballymoney, Ballymena, Moyle and Larne, embedding peace building into all parts of the sporting field. It is bringing people together from across all sorts of divides for the purposes of promoting mutual understanding and respect."
The Sport for Peace Building Project, which has already been awarded the London 2012 Olympic Inspire Mark, is funded from the European Union PEACE III Programme.
For more information visit www.northeastpeace.com
Ends
Caption: DCAL Minister Carál Ní Chuilin (centre) presented the Bronze Award to (left to right) Kyle Ferguson, Ulster Sports Academy, Deputy Mayor of Coleraine, William King and Patricia O'Brien, from Coleraine Borough Council.