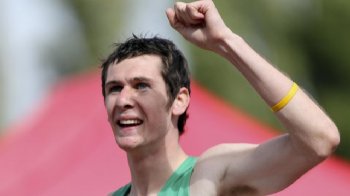 University of Ulster paralympian Michael McKillop became the first male athlete to set a new world record in the London 2012 Olympic Stadium yesterday.
The Glengormley athlete, who works in Sports Services at the Jordanstown campus, ran 3:59.54 minutes in the 1500m at the Visa London Disability Athletics Challenge, easily beating his previous best of 4:14.81.
"It's nice to be here and breaking a world record. I'm happy to be the first male to do it in the stadium," he said.
The 22-year-old, who has Cerebral Palsy, won T37 gold at 800m in the Beijing Paralympics four years ago.
McKillop, who is the current 800m and 1500m world champion, led home a field of T20 and T37 athletes.
He was competing in the 80,000-seater Olympic Stadium for the first time ahead of this summer's Paralympic Games.
"It was incredible and enjoyable and an experience I wanted to get out of my system," added McKillop.
"It's one of those things - you want to walk into a stadium for the Paralympic final without worrying or thinking 'oh my god the stadium is huge' or 'the track is bigger'.
"It's only a 400m track with lots of seats around it basically, so it's similar to where I train which is also a 400m track. I've just got to get used to it."
McKillop will start as overwhelming favourite for the 800m and 1500m T37 events at London 2012.
Dr Nigel Dobson, Head of Sports Services at the University, said: "It is great to see Michael achieve such a brilliant result so early in his preparation for the Paralympic Games this summer. He is growing in stature with every race and we are very confident that he will achieve great success during the Games in London 2012."