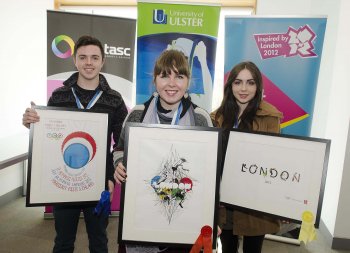 University of Ulster art students have taken part in a competition to design a poster to celebrate the 2012 Olympic Games in London.
The winner was Fiona McLaughlin from Donegal, a Foundation year BDes (Hons) Design for Interaction and Animation student.
She said: "I wanted the poster to be distinctive, dynamic and fresh. The figures and 'London' text were all hand-drawn before being placed into Adobe photoshop and illustrator for fine tuning."
In second place was Shane Finegan from Newry and third prize went to Therese McGuinness from Enniskillen.
Lecturer Terri McManus said: "The 2012 Olympic A3 poster brief originated from an established tradition of encompassing visual expression to reflect the Games. The organising committee decided to commission a series of posters to 'represent the intertwining of sports and art'.
"The students were invited to produce their interpretation of the spirit of the event. The standard of entry was very high and we're especially delighted for Fiona, Shane and Therese."
The competition was the idea of sisters Margaret McConnell, who works in the University's Sports Services at the Jordanstown campus and Terri McManus, from the School of Art and Design at the Belfast Campus.
The contest was sponsored by ThinkTASC and run in collaboration with the Millennium Court Arts Centre in Portadown as part of the 2012 INSPIRE programme.
A shortlist of 15 posters, out of 30 entries, will be exhibited at the Centre to coincide when the Olympic flame visits the town this summer. The artwork will then go on display at Jordanstown during the Games.
The judging panel included University of Ulster Provost Alistair Adair and Art and Design Head of School Professor Barbara Dass, Professor Juan Luis Paramio Salcines, Senior Lecturer of Sport Management at the Autonomous University of Madrid, Harry Porter from ThinkTasc and Jackie Barker, Art Centre Director of the Millennium Arts Centre.
Foundation year students from both the BDes (Hons) Design for Interaction and Animation, and the BDes (Hons) Design for Visual Communication took part in the competition.
Ends
Caption: Competition winners, Fiona McLaughlin (centre), Shane Finegan (left) and Therese McGuinness.