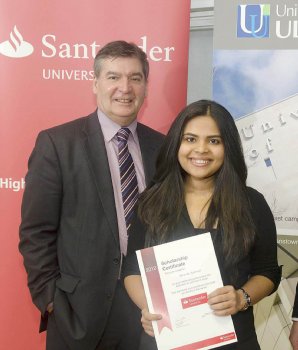 Final year Biomedical Engineering student at the University of Ulster, Shweta Agarwal was one ofeleven international students to receive a Santander scholarship towards future study and research.
The £5000 scholarship, which was in recognition of Shweta's academic prowess, leadership skills and commitment to career progression is the latest accolade for the award winning student.Originally from Jhansi (U.P.) in India, both Shweta's older brother and sister also studied at Ulster. She admits that this made the transition from India to Northern Ireland easier for her and helped her to settle into student life at the Jordanstown campus very quickly.
At the end of first year, Shweta was named top first year student in the Faculty of Computing and Engineering across all campuses and won an Alumni Fund Award for Academic Excellence.She went on to complete a very successful industrial placement as part of her degree with Heartsine Technologies, a Belfast based Biomedical Engineering company specialising in the development of automated defibrillators for sudden cardiac arrest.
Last year, Shweta secured a coveted place as a summer intern at the prestigious Harvard Stem Cell Institute (HSCI) in the US.
She said this was a great opportunity to get first class 'hands on' experience in stem cell research, as well a chance to learn more about the many interesting and practical applications of theory and the difference this kind of biomedical engineering research is making to people's lives.
During her internship, Shweta worked in Brigham Women's Hospital, Harvard Medical School. Now in her final year at Jordanstown where she is studying a range of topics in Biomedical Engineering, including biomaterials tissue engineering and the use of stem cells to treat diseased and damaged tissues within the human body, Shweta hopes to do further research in Biomedical Engineering after her graduation this summer.
Congratulating Shweta on her success, Dr Adrian Boyd, course director for Biomedical Engineering at the University of Ulster, said he would encourage other students to make the most of placement opportunities.
"Biomaterials and Tissue engineering is now an important theme within the biomedical engineering programme atUlster. A lot of the teaching is directly informed from the research we do in this area, and other biomedical specific themes, such as medical sensors and connected health and nanotechnology. This means that the students are benefitting from learning the state-of-the-art in the area as well as the important fundamentals. This is important as they move into the workplace or into PhD research programmes after they finish their degree.
"Having had such an exciting opportunity to travelAmerica to study and work in such a prestigious institution as the Harvard Stem Cell Institute (HSCI), has provided Shweta with added experience which is an ideal platform for her to pursue a successful research career in this area.
"I would encourage otherstudents to look at opportunities such as internships during their degree studies to help develop their competitive edge and enhance their skills for taking the next step in their career."
Caption
Final year Biomedical Engineering student Shweta Agarwal with University of Ulster Vice Chancellor, Professor Richard Barnett.