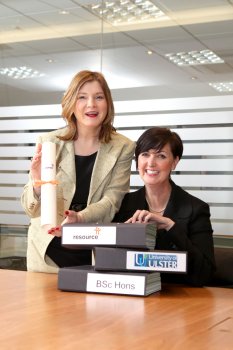 The University of Ulster's Business School has established an innovative partnership with leading support services company, resource, that will help develop employees management and leadership skills.
The new initiative will give resource employees the opportunity to study with the University of Ulster through its Employer Based Training Accreditation (EBTA) scheme - one of the first of its kind in Northern Ireland.
The training pathway, called "resource Business School" will enable employees to learn management and leadership theory while also applying the practical principles in the workplace.
This pioneering work with the University of Ulster will provide accredited training and development to enable resource to continue to attract and retain talent within the outsourcing sector and provide an unparalleled level of service and expertise to its customers across all market sectors in an increasingly competitive market.
Professor Jackie McCoy, from the Ulster Business School, said: "Ulster prides itself on being a professional University for professional life. Here at the UBS we have particular expertise in creating bespoke learning and development solutions for our corporate clients.
"We are delighted to have formed this strategic learning partnership with resource which will deliver an ambitious transformational programme across the organisation. Watch this space for a world-class example of how leadership and management development can truly drive organisational change".
The EBTA programme enables employers to maximise the impact of their in-house training and has far-reaching benefits for the company by the external verification of the quality and standard of their training.
It will also help facilitate the development of a flexible workforce in resource, which was recently re-accredited an Investors in People company, and provide staff with the managerial and leadership skills to operate at a high level of competency throughout the organisation.
This strategic learning partnership will enable resource to offer a clear and progressive career pathway for employees through the organisation into higher level leader or managerial roles. In turn, this will support succession planning and establish resource as an employer of choice that offers high quality training and development opportunities.
Debbie Donnelly, resource Group's HR & Business Improvement Director, said: "At resource, we want our employees to reach their full potential through providing great training. This accreditation from the University of Ulster underlines the quality of resource's existing management training programme and supplements that with a world-class programme through which our employees can be the best that they can possibly be. This partnership is a first for Northern Ireland and I know that it will be hugely beneficial to our employees and to our business as a whole."
Caption: Launching a new partnership,Professor Jackie McCoy, from the Ulster Business School andDebbie Donnelly, resource Group's HR & Business Improvement Director.