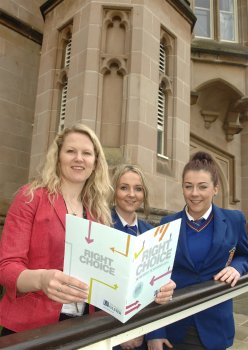 Event Organiser Davina Roche from the University of Ulster, Magee, with Melissa Fullen and Aine McNamee, Sacred Heart College, Omagh


Hundreds of school pupils from across the North West sampled student life at the University of Ulster's Magee Spring Open Day.

Year 13 students considering their course choices were invited to take part in the new showcase event which complements the annual Open Day in September.

Aimed at encouraging pupils to start planning for the future, the guided event enabled students to engage with a number of focussed areas including a course and careers exhibition, a STEM area, a series of subject based presentations and a campus tour – including the historic Foyle Arts Building.

Local businesses including Allstate, Seagate, Biznet and Pramerica, were also on hand to offer advice and support on career pathways.

Dr Tony Barnhill, Marketing and Recruitment Manager, said: "This is an important time for anyone considering studying at university. Open Days give pupils the opportunity to visit the university itself, tour the campus and talk to lecturers about the course they are interested in studying and chat to students about student life.

"Many local pupils are now opting to remain in Northern Ireland, with one important factor being affordability. Some also wish to have the independence of living away from home, but at the same time be close to home - and the University of Ulster offers them that option.

"It is essential that prospective students take the time to research courses, so that they make the right choices. Open Days are an essential part of this process, as pupils can experience the university environment and speak to staff and students about what university life is really like."

During Spring Open Day pupils will have the opportunity to meet with academic staff to discuss course options including Nursing, Social Work and Sociology, Law, Business, Psychology and Languages. Year 14 students will take part in the annual Autumn Open Day taking place at Magee on Saturday 15 September 2012.