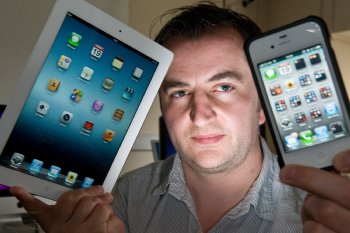 Course Director Greg O'Hanlon
The University of Ulster is launching a unique iPhone app development course at its Magee campus.
The twelve-week programme is open to anyone who wants to learn how to design and develop their own app idea.
Beginning in April, the course will introduce students to the fundamentals of development and deliver a full understanding of the environment, tools, hardware and frameworks to build apps – both informational and entertainment.
It will also consider evolving models of development including how to integrate the web.
Course Director, Greg O'Hanlon from the School of Creative Arts, said: "Mobile devices like iPhones and iPads are rapidly becoming a staple of everyday living, and more and more content creators are seeking to deploy apps as a gateway to media, entertainment, productivity and information.
"New developers can benefit enormously from professional tuition, support and guidance – whether they want to support an idea of their own or enhance their career prospects at a time when Northern Ireland is critically short in supply of developers.
"The popularity of iOS - the software which powers iPhones and iPads - combined with the recent landmark 25 billion app download on the Apple App Store means iOS developers are in huge demand."
He added: "Ulster's School of Creative Arts is an Apple Authorised Training Centre for Education. We have been planning to launch this iPhone app development course for some time and we are delighted that all the pieces have come together allowing us to offer this unique programme in the north-west.
"We are very excited by the potential of creating more technically proficient content developers across the region – this can only be good news for Northern Ireland's economy."
The iPhone app development course will also be followed by an iPad development course which will be launched in September 2012.
An Introduction to iPhone Development
will commence on April 21 and run from 11am – 1pm every Saturday for twelve weeks.
For further information contact: Greg O'Hanlon, School of Creative Arts, University of Ulster, Magee, on: 028 71675529 or email: g.ohanlon@ulster.ac.uk