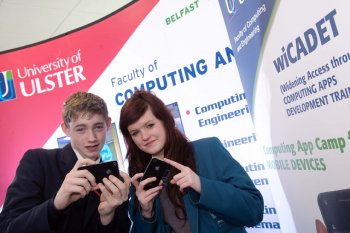 An innovative outreach project by the University of Ulster to promote STEM subjects (Science Technology Engineering and Maths) could see enterprising secondary school pupils develop their own app - computing application - for mobile phones or tablet PCs.
Ulster's first ever WiCADET camp (Widening Access through Computing Apps Development Training), hosted by the Schools of Computing and Information Engineering and Computing and Intelligent Systems, got underway at the Coleraine campus this week for around 80 Year 11 and 12 pupils.
The pupils from12 different schools were divided into teams of four, two teams from each of school, to compete against each other and develop a market ready app.
One of organisers, Dr Michaela Black explains:"Computing apps are an ideal platform for University outreach activities as they introduce computing topics, problem solving and entrepreneurial skills to the pupils in a very real way."
She continued: "Each team will be given a problem and asked to design their own mobile app solution. Teams will receive initial training in the required software to develop their app at an introductory session at the Coleraine campus and during the course of the project, they will work closely with their mentor - PhD and final year students - to develop the app which they will to present to their peers, University staff and business representatives, who will act as judges in a Dragons' Den style scenario and provide feedback and guidance on the initial designs."
The app camp moves to the Magee campus next week(March 30) for a follow up session with further software training. In between the two on-campus sessions, pupils will continue to work with their mentors, some of whom have already successfully developed their own apps.The teams will get a chance to refine their designs before showcasing them at a prize giving event onMay11 at the Coleraine campus.
Three of the mentors, Computing undergraduates, Kyle Davidson, Shannon Holgate and Stuart McKeesecured coveted places on an intensive two month Apple App camp with leading IT company Kainos last summer and each designed, developed and launched their own app which can now be downloaded from the official Apple App store.
By engaging with and challenging the pupils in a University setting, Dr Black said she hoped the project would encourage them to consider higher education and raise awareness, particularly among girls, of computing as a relevant career option.
"This is an excellent time for young people to consider a career in computing as there is currently a vibrant job market in this sector."
Other members of the University project team are lecturing staff who have previously been involved in outreach activities, including Dr Joan Condell, Mr Derek Woods, Mrs Mairin Nicell, Dr Adrian Moore and Mrs Janet Allison.The WiCadet camp is funded by Ulster's outreach programme.
CaptionColeraine/BallymoneyAaron Brown from Ballymoney High and Beth Buchanan from North Coast Integrated College, Coleraine at launch of the App Camp, hosted jointly by the Schools of Computing and Information Engineering at the University of Ulster's Coleraine campus and the School of Computing and Intelligent Systems at the Magee Campus.