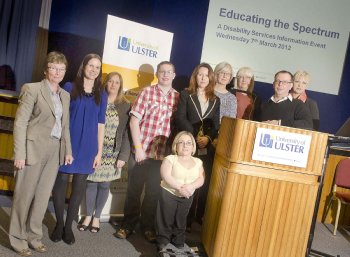 Student Support staff and Speakers at the Educating the Spectrum event, from left, Professor Anne Moran, Emma Jackson, Norma Conn, Marcus Lewis,
Jane Stewart, Nicola Moses, Rosemary Watkins, Sue Steging, Daniel Aherne, National Autistic Society, and Estella Dorian
The University of Ulster is encouraging more young people with Autistic Spectrum Disorder to consider higher education.
A one-day event hosted at the Jordanstown campus on Wednesday highlighted the wide range of support services available for students with ASD at Ulster and how to access them.
Educating the Spectrum, which is funded by the university's Department of Access and Distributed Learning Outreach Programme, aims to improve the transition experience of young people with ASD and to make higher education a realistic career choice.
Guest speaker, Daniel Ahern, from the National Autistic Society's Student and Graduate Team, explored the challenges, skills and strategies that will assist young people in their progression to higher education and onward to employment.
Parents, support providers and students with ASD also shared their experiences of university life.
Estella Dorrian, Disability Support Co-Ordinator at Jordanstown said: "Having Autism or Asperger Syndrome needn't be a barrier to higher education. At the University of Ulster we provide appropriate support and facilities for students with specific learning difficulties as well as for students with disabilities including physical and sensory disabilities, medical conditions and mental health difficulties.
"This event is the inaugural regional launch of Educating the Spectrum and we hope it will encourage more young people with ASD to seriously consider higher education as an option."For further information visit: http://www.studentsupport.ulster.ac.uk/disability/