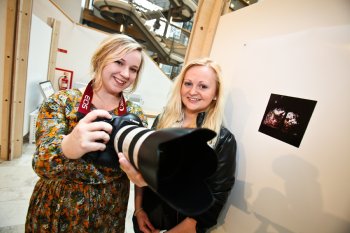 Artists in residence at the University of Ulster have teamed up with Northern Bank to create six pieces of original art for first time buyers.
The new homeowners, who won a photographic competition run by the Northern Bank, will work with emerging talent from the University's School of Art and Design to create a specially commissioned piece of artwork – up to the value of £500 – to help turn their new house into a dream home.
The 'works of art' will vary from paintings to jewellery, photography, printmaking and also ceramics – all by local graduates.
The six artists and designers in residence recently met Northern Bank's first time buyers who were successful in the 'Home is Where the Art Is' competition at the Belfast campus.
Northern Bank's winning mortgage customers were matched up with an artist or designer depending on their entry submission and interests.
Deborah Fraser, Associate Head of School of Art and Design, said: "Having a bespoke piece of art can really make a house a home whilst also supporting the local creative industries.
"We're delighted that Northern Bank chose to source original artwork from our artists and designers-in-residence and we are looking forward to getting started."
Vanessa Postle, Community Affairs Manager at Northern Bank, added: "We're keen to support aspiring home owners to get their foot on the property ladder and in fact, last year over 50 per cent of our new to bank mortgage lending business went to first time buyers.
"We know that a mortgage is more than just your largest financial commitment, it's also about creating a home. Most first time buyers don't have the luxury of extra cash to spend on specially commissioned art for their new home so our partnership with the University of Ulster is not only supporting emerging artistic talent but is providing six local homeowners with a very unique prize."
First time buyers, with an approved Northern Bank mortgage, were eligible to enter the competition by sending in a photograph showing a feature of their new house which tempted them to make the decision to buy.
The judging panel included Jonathan Porter, Presseye.com, Belfast, Deborah Fraser Associate Head of School of Art and Design, University of Ulster and Vanessa Postle Community Affairs Manager, Northern Bank.
The winning first time buyers were matched with the following artists:
Joanne McCollam from Downpatrick and artist Ross Watson
Ursula Kelleher and partner Deric Henderson from east Belfast and artist Sarah Crooks
Jenna Lomas from Dundonald and artist Jordan Henderson;
Caroline Smith from Belfast and artist Samantha Dukelow;
Sarah Hanna from Rathfriland and artist Lynn Cromie
Donna Farren from Dungiven and artist Rebecca Killen
Ends
Caption: University of Ulster artist in residence Samantha Dukelow and first time buyer Caroline Smith.