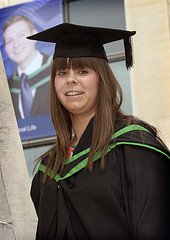 An Ulster Sports Academy student, who devised a new strategy to encourage schoolchildren to take up hockey, graduates today.
Laura McDermott, from Derry~Londonderry, who graduates with a BSc Hons Sports Studies, is the first student to undertake a placement year with Ulster Hockey, the governing body responsible for the sport in the province.
She said: "I was given this brilliant opportunity to work alongside some of the leading professionals in Northern Ireland's sport industry and learn from them.
"This placement changed my career focus, before I was set on becoming a Physical Education teacher, but now I realise other equally rewarding avenues are available such as working with children at grassroots level, talent identification, coaching or high performance capacities.
"The University of Ulster's placement year set it apart from other universities, and this on-the-job experience should help me to stand out from other graduates to potential employers.
University of Ulster lecturer, Dr Katie Liston, said: "This was the first placement of its kind with Ulster Hockey and Laura made a real success of it.
"At Ulster Hockey she was given formal responsibility for grassroots programmes, Laura's dissertation focused on exploring the feasibility of setting up a school/club links partnership in Ulster to redress some of issues with falling participation rates.
"The task was particularly daunting because there is nothing like this in place in Ulster or indeed throughout Ireland. It is normally a job that full time sports development officers would take on.
"In her final year, Laura studied full time while still maintaining a role with Ulster Hockey, this contributed to her thesis being of a high standard with a direct professional relevance to a national governing body."
Angela Platt, Executive Manager of Ulster Hockey said: "Laura contributed significantly to the work of Ulster Hockey during her year with us. She integrated herself into our team and her success can be attributed to the hard work and dedication she has shown within her studies. There is no doubt that the recommendations from her strategy will be important for the development of hockey in the future."
Laura, who graduates with a BSc in Sports Studies and Diploma in Industrial Studies, will continue to work as a co-ordinator on a part-time basis at Ulster Hockey for the incoming season.
"It is obviously early days in regards to my strategy being adopted, and largely dependent upon funding, but management have expressed an interest in its utilisation in the future," said the Priorians Ladies Hockey Club member.
"I now hope to gain full-time employment in the sports development sector - an occupation that I know first hand is demanding but highly rewarding."