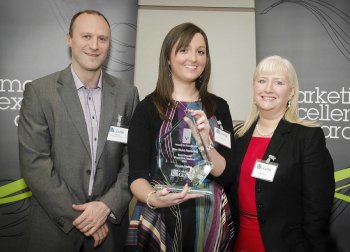 Nine University of Ulster students have been recognised for their outstanding academic achievements at an award ceremony today at the Jordanstown campus.
The Department of Marketing, Entrepreneurship and Strategy's Marketing Excellence Awards celebrate the skills, hard work and dedication of high achieving students from Ulster's class of 2010/2011.
Head of the Department, Professor Rodney McAdam, said: "The ongoing support of our sponsors from the business community is a key part of the awards process and we express our thanks to them.
"The achievement of these winners is truly outstanding given the high levels of competition.
"It's great to hear today how many of our former students are now in full-time employment."
Shauna Mullan, from Carrickmore, County Tyrone, was awarded the Best Overall Final Year Student in the Marketing Institute of Ireland Award for Excellence.
She graduated with a First Class BSc Hons degree in Marketing with a Diploma in Industrial Studies following a placement in Hastings Europa Hotel. Since graduating Shauna has been appointed the role of Events Manager with Hastings Everglades Hotel, Londonderry.
"I'm thrilled to win this award today. I loved the marketing degree, the modules were really interesting and lecturers were helpful and easy to talk to," said Shauna.
"I feel very fortunate to have secured a job so soon after graduating. The placement was invaluable in terms of gaining employment."
The winning students were:
Marketing Institute of Ireland Award for Excellence
BSc (Hons) Marketing
Best Overall Final Year Student, Shauna Mullan
Chartered Institute of Marketing Award for Excellence
BSc (Hons) Marketing
Best Student Performance in Global Marketing, Clare Quinn
Property News Award for Excellence
BSc (Hons) Marketing
Best Overall iMarketing 2.0 Student, Stacey Rooney
Hastings Hotels Award for Excellence
BSc (Hons) Marketing
Best Overall Second Year Student, Bronagh Mulholland
Stakeholder Group Award for Excellence
BSc (Hons) Marketing
Best Overall First Year Student, Laura-Anne Lewis
Envision Management Consultants Award for Excellence
MSc Marketing
Best Dissertation, Heather Edgar
Wrightbus Award for Excellence
MSc Marketing
Best Overall Final Year Student, Jordan Gamble
Moy Park Award for Excellence
PgD/MSc Agri-food Business Development
Best Overall Performance, Chien-i Chen
Rutledge Recruitment and Training Award for Excellence
BSc Business Studies Part Time
Best Final Year Student, Niamh Chambers