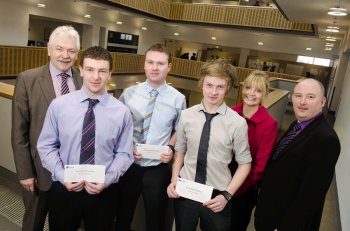 Jim Keith, Principal, Belfast Boys Model School, Scott Hollywood, Mark Spence, Michael Stewart, Mrs Marie Clarke, Head of Science, St Patrick's College and Dr Damian O'Kane, Head of Access & Educational Partnerships, University of Ulster
Three University of Ulster Step-Up students have each been awarded £1,000 scholarships.
Michael Stewart, formerly of St Patrick's College, Bearnageeha, who is studying Aerospace Technology at Coventry University and Biomedical Science students Scott Hollywood and Mark Spence, both formerly of Belfast Boys Model School, were the deserving recipients.
They beat off stiff competition to scoop the three £1,000 awards by outlining how the funding would enhance their education.
First year students who graduated from the University's innovative Step-Up programme in August 2011 were invited to apply for the scholarships. A scholarship committee, comprised of representatives from the University, Step-Up schools and industrial partners, then selected the top three entries.
Dr Damian O'Kane, Head of Access and Educational Partnerships at Ulster said: "We are delighted to provide scholarships to support these three talented Step-Up students to fulfill their academic potential."
The Step-Up Programme, based in the North-West and in the greater Belfast area, is a unique and innovative interventionist programme which provides new learning opportunities in science for talented young people who live in areas of social and economic disadvantage and is supported by the Department for Employment and Learning.