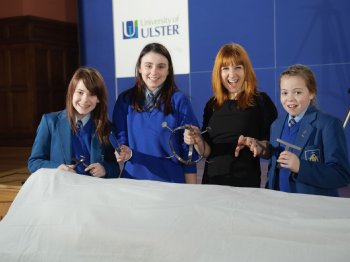 Over 500 secondary school pupils celebrated National Year of Pathology (NPY) 2012 at events hosted by the Department of Access and Educational Partnerships at the University of Ulster this week.
Year 10-12 pupils attended a 'virtual autopsy' lecture, delivered by Dr Victoria Wishart, a Histopathologist at Belfast City Hospital, and the Regional Co-ordinator for NPY. Following the lecture, pupils had the opportunity to gain practical experience of heart and lung anatomy and to learn hands-only CPR. Pupils were assisted in the practical by staff from Antrim Area Hospital, student Nurses and volunteers from the Order of Malta.
Dr Wishart said "National Year of Pathology provides the ideal platform for us to engage with members of the public and raise awareness of the role of pathologists in modern medicine. I am glad to have the opportunity to connect with so many young people, and to hopefully inspire them to consider pathology related careers in the future."
Dr Lizzie Peachey, Access Officer at the University of Ulster said "The virtual autopsies have provided pupils with a unique opportunity to learn about pathology in a highly interactive setting. Events like these play a key role in inspiring pupils to continue studying STEM subjects at school and beyond."
The Department of Access and Educational Partnerships'Secondary Engagement lecture series continues at the end of February when Hugh Montgomery, Professor of Intensive Care Medicine at UCL, will deliver lectures at the Magee and Jordanstown campuses about the Science of Survival.
The Secondary Engagement programme is funded by the Department for Employment and Learning, and the University of Ulster's Access Agreement.
ENDS
Caption:Dr Victoria Wishart. with pupilsCaoimhe Dineen, Caitlin Walker and Shayna Harkin from St Mary's College, Derry.