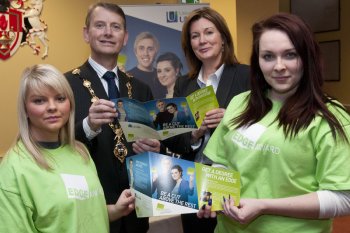 Alderman Maurice Devenney, Mayor of Derry, pictured at Magee's European Jobs Day with Moira McCarthy, Career Development Manager and Magee students Catherine Luney and Stephanie Tares
Hundreds of students and young people learned about the exciting job opportunities available across Europe and beyond at the University of Ulster's Magee campus this week.
Ulster's Career Development Centre in partnership with European Employment Services (EURES) Cross Border Partnership hosted a one-day event to raise awareness of the career prospects which exist globally for students and graduates.
Organisations including the London 2012 Olympics, International Experience Canada, the US NI Mentorship Programme, Dramatic English and EURES Cross Border and International were just some of the exhibitors on hand to promote the opportunities on offer.
Students from the Magee and Coleraine campuses, North West Academy of English, Letterkenny Institute of Technology and North West Regional College attended the event along with young people from fourteen schools across the Derry and Donegal region.
Lecturers and staff from Ulster's School of Languages and Culture, the International Office and Foyle Language School offered advice on the many advantages of choosing to study a foreign language.
Moira McCarthy, Career Development Manager at the University of Ulster, said: "This event has been organised to help make students aware of the wealth of opportunities that are available to them through organisations such as those exhibiting at Magee today.
"During the current economic downturn when graduates may be finding it difficult to secure full time employment, it is important to take advantage of international internships, placements and summer programmes which will help bolster permanent job prospects in the future.
"For graduates who are willing to utilise their foreign language skills and take up the challenge of working in a new country the possibilities are endless."
Joe Lavery, EURES Cross Border Co-ordinator, added: "The EURES Cross-Border Partnership makes things easier for those who commute across a border in order to earn a living. We also help employers by providing them with access to a larger pool of labour. These partnerships are part of a wider family of European Public Employment Services whose aim is to encourage labour mobility across Europe and raise awareness of opportunities which exist across the European Union.
"Today's event helped inform hundreds of young people living in the North West about the many opportunities and job prospects that are open to them in countries across Europe and indeed all over the world."