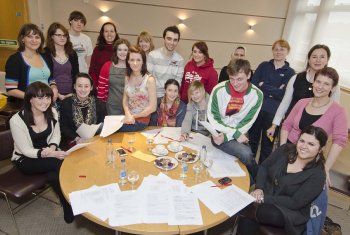 Linguistics students in the School of Communication at the Jordanstown campus joined forces with other universities throughout the UK this month to take part in the first ever Linguistics Olympiad 'Markathon' to be hosted by Ulster.
The Linguistics Olympiad is a competition for secondary school students in which they have to use logic to solve linguistic data problems. With so many schools taking part in this year's event, the organisers put out a call to universities throughout the UK to help with marking the papers.
Linguistics lecturer, Dr Catrin Rhys explains that the Linguistics Olympiad is like a cross between word puzzles and Sudoku.
"Linguistic data problem solving requires a range of skills so it appeals equally to those with a talent for maths or for languages. It's a wonderful opportunity to spark an interest in linguistics among secondary level students who may not otherwise experience our discipline."
The inaugural Linguistics Olympiad was held in Russia in 1965 and in recent years, the event has grown in popularity around the world. In 2010, 29 schools across the UK took part, last year, the number of participating schools almost doubled and this year, over 300 schools took part.
"The Olympiad relies entirely on volunteers to mark the advanced scripts so the 'Markathon' was developed as a creative solution to the dramatic increase in scripts that had to be marked within a very short period of time. It involved staff and students collaboratively marking scripts and learning from them in the process.
Dr Rhys said being involved in the 'Markathon' was beneficial for both lecturers and their students.
"It was an ideal occasion for Ulster's linguistics students to get involved in something that went beyond the curriculum and to make a contribution to the broader educational community. It also gave them professional experience of formal assessment processes, and a chance to get involved in the wider linguistics community and to develop professional networks."
Encouraging more schools to get involved in the Linguistics Olympiad, Dr Rhys said it was an excellent opportunity for secondary school pupils to sample linguistics and to develop their formal analytical skills.
"It challenges them to use logic and problem-solving skills to solve puzzles in language and linguistics. No previous knowledge of linguistics or a second language is necessary – you just use your ingenuity to decode unfamiliar languages."
For further information about the Linguistics Olympiad, contact Dr Catrin Rhys, telephone 028 90366463 email c.rhys@ulster.ac.uk
CaptionLinguistics lecturers and Phd, Masters and undergraduate students in the School of Communication at the Jordanstown campus joined other universities throughout the UK for the first ever Linguistics Olympiad 'Markathon' to be hosted by Ulster. Included in the photograph University of Ulster lecturers, Dr Catrin Rhys, (event organiser) second from right, Christina Sevdaliand, Dr Christiana Ulbrich, Christina Sevdali and Raphaella Folli and Joan Rahilly, Queen's University, Belfast.