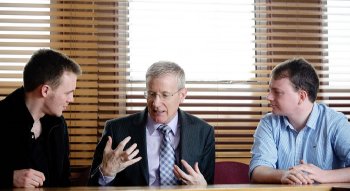 DUP politician Gregory Campbell MP MLA took time out his busy schedule to field questions from aspiring journalists at the University of Ulster's Coleraine campus.
Students on the MA Journalism degree quizzed the East Londonderry representative on a wide variety of issues, ranging from changes proposed by the Boundaries Commission and Scottish Independence, to the role of backbenchers at Westminster and the Arab spring.
The MA Journalism degree, which was introduced by Ulster 12 years ago, is consistently one of the top performing postgraduate journalism programmes in the UK. It is the only postgraduate journalism programme in Northern Ireland to embrace multi-platform journalism, with accreditation by the National Council of Training for Journalists (NCTJ).
Dr Colm Murphy, Head of School of Media, Film and Journalism at Ulster, said the course also has one of the best employment records,with 100 per cent of its graduates now working in the media.
"Ulster's MA degree in Journalism equips graduates with skills to work as print journalists or with online, TV and radio outlets", explains Dr Murphy.
"The programme was developed as a response to technological advances which have resulted in traditional divisions between print and broadcast media being blurred. The University collaborated with the NCTJ to develop a pioneering programme and now others are following our lead."
Gregory Campbell, who was invited to speak to the students by journalism lecturer, Milne Rowntree, said he was delighted to return to the Coleraine campus.
"It's always an interesting to meet the journalism students as they are very well versed in current affairs so there's no hiding place."
Caption
Gregory Campbell MP MLA talks to MA Journalism students Ethan Loughrey from Omagh and Jordan Moates, Banbridge, during his visit to the University of Ulster's Coleraine campus.