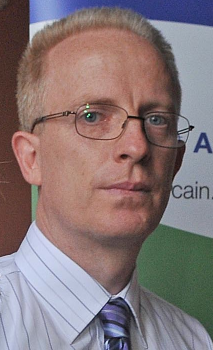 Dr Brendan Lynn
Official documents which show the Irish Government's thinking on pivotal events at the start of the 'Troubles'areto made be available online at the University of Ulster's CAIN (Conflict Archive on the INternet) website.
The University has secured significant funding from the Irish government to extend a successful pilot project with the National Archives, Ireland (NIA) to digitise archival documents pertaining to the Troubles between 1970 and 1972.
Staff from the University and the National Archives, Ireland (NAI) worked on the pilot project to provide free access to Irish public records from 1965 to 1969 on the CAIN website.
Documents now available online cover a range of events between 1965 and 1969, including the historical meeting between Sir Terence O'Neill, the then Prime Minister of Northern Ireland and the Republic's Taoiseach Sean Lemass in January 1965, as well as correspondence relating to the growing public unrest on the streets.
Previously official Irish Government documents were only accessible by visiting the National Archives office in Dublin and the aim of the pilot project was to make material released by the NAI under its Annual Release Scheme' available to a wider audience.
Dr Brendan Lynn, CAIN Deputy Director, said the additional funding will allow a greater selection of the Irish Government's material pertaining to the Troubles to be added to the website.
"These primary source documents will augment existing resources on CAIN and help contribute to a greater understanding of the conflict in Northern Ireland."
He continued: "We are pleased to have been able to continue our work with NAI and to make the information easily available and free of charge. This allows CAIN to pursue one of its long-term objectives of working with individuals, groups or organisations with relevant material to make digital versions of the materials more accessible to a wider audience.
"We believe it will of great use to students, researchers, teachers and lecturers or to anyone with an interest in the political and social history of Northern Ireland."
The University was awarded 40,000 Euro for the project and wasone of 72 peace-building and community organisations north and south of the border to benefit from the Irish Government's Reconciliation and Anti-Sectarianism Fund programme.
The awards, announced by An Tanaiste, Eamon Gilmore TD support initiatives being undertaken by a wide range of organisations and individuals who have made reconciliation and anti-sectarianism core principles of their work.
The CAIN website provides an extensive range of information and source material on the conflict and politics of Northern Ireland from 1968 right up to the present day.