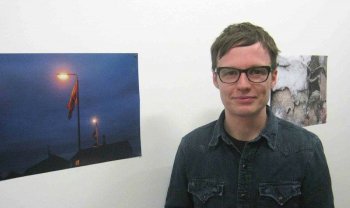 University of Ulster graduate Fergus Jordan is a firm believer that studying for his PhD in photography has provided him with a sound platform to develop his voice as an artist.
Fergus, who graduated this week is Artist in Residence at Digital Arts Studio in Belfast, working on an extension of his PhD research into the relationship between, vision, iconography and the camera.

His research interests include the study of post conflict landscapes and the nocturnal representation of the city.

Fergus began his studies in 2000 when he embarked on a BA in Design for Visual Communication at Ulster which included a year working and studying in America.

In 2004 he enrolled on a part time MSc course in Future Communication while working full time as a commercial photographer, a job he found very rewarding.

"Working as a commercial photographer was a really sociable job where I got the chance to meet people in all kinds of circumstances. At the same time I was also able to continue developing my skill base as a photographer," he explained.

"In 2008 I decided to refocus my career path, moving away from commercial photography towards the study of photography as a fine art research practice through PhD research."

As well as holding a Residency at Digital Arts Studio, Fergus is working on a new project through the Arts Council of Northern Ireland Artist Career Enhancement (ACES) with Belfast Exposed Photography.

Professor Ian Montgomery, Dean of the Faculty of Art, Design and the Built Environment commented: "Fergus has had a long association with the School of Art and Design, having graduated in Visual Communication through which he developed a love of photography.

"In subsequent years he became interested in the conflict between darkness and night and interface spaces in the city which became the subject of his PhD research.
"Fergus has secured a number of solo and group shows in prestigious galleries in Ireland and beyond. The School is very proud of Fergus' achievements and we wish him every success in the future."

You can see more of Fergus' work atwww.fergusjordan.com