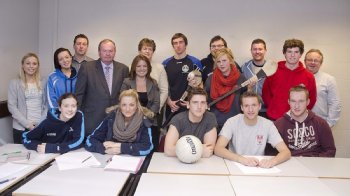 How young people view the GAA will be the focus of a student workshop being held at the University of Ulster today (Thursday).
The workshop is one of a number taking place to discuss perceptions of the Association and hear suggestions on how it can grow as an organisation.
GAA President Liam O'Neill will attend the event which involves students from the Ulster Sports Academy at the Jordanstown campus.
He said:
"We are delighted to be at the University of Ulster today for what is the latest workshop organised by our National Youth Committee.

"The rationale behind the establishment of this Committee was to seek out and channel the views of our younger members on every aspect of the GAA and how it functions as an organisation.

"Our young members today are the administrators and stalwarts of tomorrow, their opinions about the direction we are taking and how we organise our activities are of paramount importance.

"We have already held a number of hugely productive workshops to date, crucially today's will involve a non-GAA audience offering another viewpoint of our Association.

"I would like to thank the University and Dr Rachael Brooks, in particular, for agreeing to host this event and I look forward to valuable and useful feedback from the exercise."
Professor Marie Murphy, Head of the Ulster Sports Academy, said:
"We are pleased to host this workshop - a significant number of our students play Gaelic sports and a number of our students are introduced to Gaelic Football for the first time each year on our undergraduate courses, so it is great for them to have an opportunity to have their views contribute to the future of the GAA."
Dr Rachael Brooks, lecturer in Sports Development, said:
"This is a fantastic opportunity for our students to engage with a national governing body who use research to inform their practice. This research and engagement process is essential to develop links between theory and practice with the results of these focus groups undoubtedly impacting on our students as future sports development professionals."
The workshops are targeted at 16 to 24-year-olds, male and female, from a range of Gaelic sports. The GAA is also visiting universities, schools and clubs to gain the views of non-GAA members. Opinions are invited on all aspects of activity in the Association, including games, clubs, administration, communication and marketing.
Caption: Attending a GAA workshop at the University of Ulster were(middle centre) Liam O'Neill, GAA President, Aileen Lawlor, President National Camogie Association, Arlene McMahon, Croke Park Youth Development Committee, and Sports Studies students.