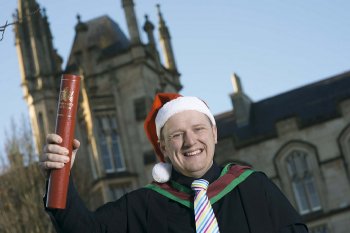 Studying for a Master's degree in Computing and Intelligent Systems while working as research assistant and robotics lab manager in the School of Computing and Intelligent Systems at the University of Ulster's Magee campus has paid dividends for Emmett Kerr.
Emmett (30) from Kylemore in Derry graduated with distinction at the University's winter graduation ceremonies in the Millennium Forum this week. Emmett, who is the son of Garvin and Marie Kerr, was also awarded the 8Over8 prize for the top postgraduate student across the School's three postgraduate programmes.
After graduating with a BEng (Mechanical and Manufacturing) from QUB in 2005, Emmett landed a graduate position with Dublin based company Smurfit Kappa. He quickly progressed up through the ranks, first to project manager, overseeing machine installations and upgrades and managing a £7 million budget, and then mechanical engineering supervisor, supervising 10 employees.
"It was a very pressurised workplace but it gave me my first real taste of the workings behind automated systems and lead to my interest in robotics," said Emmett.
"When I was growing up, I was mad about gadgets and was always curious about how things worked. In 2009 when I'd got the chance to come back to Derry to work as a research assistant at Magee, I jumped at it," he said.
The following year, he decided to juggle the full time position with studying part time for his Master's degree.
"I knew that it would be a challenge but I'd a real thirst for knowledge and was working in the ideal environment. I decided at the outset that if I was going to do it, I'd do it well with no half measures and give it everything."
The £20 million Intelligent Systems Research Centre is one of Magee's flagship developments. Its purpose-built cognitive robotics lab is Europe's largest robot electric floor and houses a variety of robots, including the five finger, state of the art Shadow Robotics hand and a Vicon tracking system.
In his role as manager of the robotics lab, Emmett is often called upon to show visitors around, give demonstrations and introduce them to the Shadow hand. He is also one of Ulster's STEM(Science Technology Engineering and Maths) ambassadors. His enthusiasm for STEM subjects generally and robotics specifically rubs off when he mentors post primary pupils in the Lego league and represents the ISRC at school career fairs.
A member of the Cognitive Robotics Research (CRT) team at Magee which is led by Professor Martin McGinnity, Emmett has now embarked on his doctoral studies and is working towards his PhD.
The CRT – one of nine ISRC teams researching intelligent systems – is developing software to enable robots, smart devices and sensor-based computer applications to mimic aspects of the brain and replicate human reasoning, learning and autonomous behaviour.
Emmett explained: "Robotic systems need to be able to grasp all kinds of different sized objects just as easily as humans.
"The aim of my PhD research will be to use the Shadow Hand to develop a system that incorporates both sensor data and visual information to track the movements of a human hand and then use this information to develop computational intelligence algorithms to allow near human performance in robotic grasping."
Ends