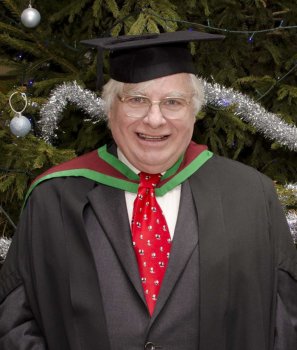 University of Ulster postgraduate student Michael Goss will be 72 in January – but he has no plans to put away his books any time soon.
Originally from Dublin and now living in Aughrim, County Wicklow, Michael who graduates this week with a MSc in Marketinghas already embarked on the next stage of his academic journey.
Michael is the first to admit that he not the usual run of the mill student, but explains that a health scare back in 2005 forced him to reconsider his options.
He takes up the story: "At the time I was working as a commercial pilot and had my own air taxi business. A routine medical check-up turned out to be life changing. I was told I was in heart attack alley and advised not to fly again. Within a matter of hours, my life had changed completely."
Michael underwent successful bypass surgery soon afterwards and although health wise he has never looked back, he was faced with a different dilemma – he was used to an interesting and busy life so needed a new challenge.
As a young man, he worked with Clubman shirts in Donegal for a couple of years before returning to Dublin to run a successful shop fitting business. After selling the company to two of his employees, he worked as a pilot with Iona airlines – Ireland's first commercial airline.
When IONA ceased operations in 1995, Michael launched his own air taxi business and over the next decade the company enjoyed steady growth. At the time of his premature retirement, the company was operating two Learjets, a Cessna 406 and Shorts 360.
"It was the same kind of work that I'd been doing with IONA - jetting celebrities in and out of Ireland, transferring patients between hospitals, and moving freight around between Ireland and the UK. It all sounds a lot more glamorous than it actually was," said Michael.
He decided to put his wealth of business experience to good use and signed up for a Foundation Degree in Business and Entrepreneurship at Dun Laoghaire Institute of Art, Design & Technology and finished among the top in the class.
Although it had been over 40 years since he'd left school, not only did he really enjoy the course but it whetted his appetite for further study.
When he was still undecided about what to do next, he bumped into Dr Danielle McCartan-Quinn, Ulster's Associate Head of Department of Marketing and Entrepreneurship who convinced him to sign on for the MSc degree in Marketing at Jordanstown.
Dr McCartan-Quinn said she's very proud of Michael and so glad that their paths crossed that fateful day.
Congratulating him on his success she said: "Michael really embraced his role of a full time student with great enthusiasm. The other students looked on him as a father figure and selected him as their class representative.
"The MSc in Marketing is an academically challenging programme with a particular emphasis on entrepreneurship. Michael's experience and business acumen enriched the class, benefiting the lecturers and the other students."