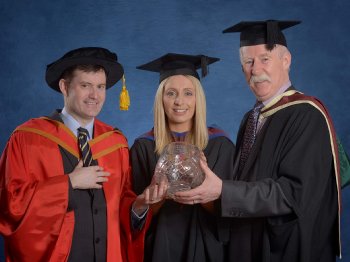 Natasha Millar celebrates her award with academics Dr Colm Murphy, left, and Milne Rowntree, right.
Natasha Millar has not only graduated with distinction from her MA Journalism course at the University of Ulster, Coleraine, she has also gained a place on the Dean's List and been awarded the Belfast Telegraph Shorthand Trophy.
The talented Portstewart woman has also secured employment as a trainee cross platform journalist with UTV.
Said Natasha: "Every year, UTV offer a contract for one graduate. It's a wonderful opportunity, as I know the job market is so difficult at present.
"The course at the University of Ulster was invaluable to my training as a journalist. The practical and legal training is second to none.
"Maggie (Swarbrick) and Milne (Rowntree) are fantastic mentors, as are all the staff who teach on the MA. They really support their students and their advice and guidance is what makes the course so successful.
"But I couldn't have done it without the love and support of my grandparents, Sean and Christine Loughran. My grandfather, who has sadly passed away, is my inspiration.
"Journalism is genuinely all I have ever wanted to do. I remember being about eight years old and impersonating the local television newsreader with the aid of the subtitles - much to the annoyance of my grandparents who probably would have preferred to hear the actual news.
"As well as gaining my MA, another highlight of the year has been getting engaged on the day of my final exam. My boyfriend, Adrian, proposed in front of all my family at a BBQ and we plan to get married next Christmas.
"The position at UTV has exceeded all my expectations and I am truly thankful to have been given such a great opportunity so early in my career
"I meet people at the best and sometimes, unfortunately, the lowest times in their lives, but journalism is such a powerful medium – whether it be online, newspapers, radio or TV – and that is what I love about my job."
ENDS