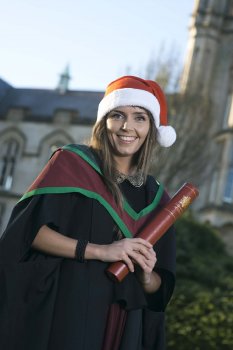 A University of Ulster student is helping to improve attitudes towards diet and fitness in her home city of Derry~Londonderry after gaining employment on the 'Healthy Cities' project.
Nicole Blackburn, who graduates today with a MSc in Sport and Exercise Nutrition is putting her knowledge to good use.
She said: "I am currently employed by my local council on a full time basis as a fitness instructor, however, since completing my MSc I also secured employment with 'Derry Healthy Cities' - a partnership based approach aimed at improving the health and well-being of the people who live and work in Derry.
"My work on 'Healthy Cities' is varied, I've done presentations for youth groups and a local women's group where we discussed the benefits of healthy eating for general well-being. I also talk to groups about optimal nutrition for active populations.
"I have always had a keen interest in nutrition, throughout my undergraduate course, BSc Sport & Exercise Science, I found the nutritional based modules especially interesting," said Nicole.
"The importance of nutritional intake for optimum health and performance is quickly becoming an area of growing interest. I had been searching for a course in this field since graduating in 2010. When I came across the MSc at the University of Ulster, it couldn't have been more suited to the fields I wished to pursue further. Also, due to the course being distance learning, it allowed me to work throughout my studies, which was a major benefit to me personally."
Graduates from the course can apply for the Sport and Exercise Nutrition Register (SENr) once professional experience has been obtained.
Nicole added: "I am hopeful that once I gain SENr graduate status I will be eligible to apply for more substantial posts in the field of sport and exercise nutrition. I am also interested in furthering my studies in this area and I'm looking for PhD's in this field."
Course Director, Dr Andrea McNeilly, said: " The University is extremely proud of the MSc Sport and Exercise Nutrition given that it is the only course of its kind on the island of Ireland. It is encouraging to see our first graduates from the programme gaining employment in the area so soon after the completion of their studies and we wish them well in their future careers."
For further information on the course please contact Dr Andrea McNeilly on a.mcneilly@ulster.ac.uk or 02890 366675.
Ends