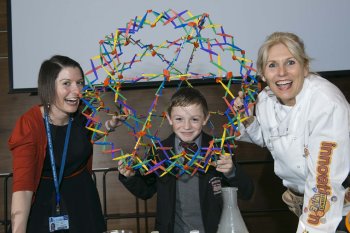 Almost 2,000 pupils and their teachers from primary and secondary schools throughout the North West converged on the University of Ulster's Coleraine and Magee campuses this week forinteractive Christmas Chemistry science shows.
Organised by the University's Department of Access and Educational Partnerships, pupils were treated to a series of fun interactive demonstrations, displays and explosions by guest lecturer Sue McGrath, Director of Science2Life and Fellow of the Institute for Physics.
Outreach co-ordinator and event organiser, Emzi Frater said: "Having taught Physics and Chemistry for 10 years before taking to the stage in her current role of Science Communicator, Sue has a wealth of experience in delivering education in an exciting and imaginative way.
"We have had a very positive response from schools for each of these events, highlighting the demand for continued science outreach in the area."
Encouraging schools to get involved in the University's outreach events, Mrs Anne Mooney, Access Officer, said: "The Department of Access and Educational Partnerships offer an array of activities throughout the academic year targeted specifically to Key Stage 3 and 4 pupils through our Engagement programme and Key Stage 2 pupils as part as our Engaging Young Minds initiative.
"All activities are offered to schools on a 'zero cost' basis but demand is growing and the places do fill up very quickly."
Christmas Chemistry is the first in a series of outreach activities planned for the 2012/2013 academic year which aim to raise young people's educational aspirations and stimulate their interest in STEM (Science Technology Engineering and Maths) subjects.
These activities have been funded through the University's Access Agreement.For further details on planned activities please contact the Department of Access and Educational Partnerships on (0)28 716 75045.
Caption Science Magician, Sue McGrath, director of Science2Life Emzi Frater, Outreach Co-ordinator for Science at the University of Ulster with one of the hundreds of local primary and secondary school pupils who attended the Cool Christmas show at the University's Coleraine campus