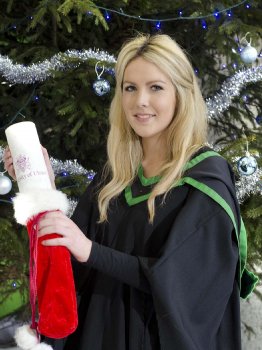 Social Policy student Rozanne McCabe
Research into the scale of domestic violence in rural areas was the focus of a major project by social policy student Rozeanne McCabe, who graduates today with a first-class honours degree.
The Derrylin woman's project – carried out in association with Fermanagh Women's Aid – has already helped the charity to tap into thousands of pounds of support funding –with more expected.
"I found that factors such as isolation, lack of transport, lack of information were all major barriers to women in Fermanagh seeking support ondomesticviolence issues.
"I hope my work will be of value to Fermanagh Women's Aid in helping them get additional resources to do their valuable work," said Rozeanne.
Kerry Flood, Strategic Development Worker forFermanagh Women's Aid,said Rozeanne's work had already made a big difference:

"Through Rozeanne's work we have already been able to secure €56,000 from the Department of Foreign Affairs in Dublin – the first time we've ever been funded by a southern body.
"Themoneywill be used for a cross-border project exploringdomesticviolence and its links with sectarianism, xenophobia and homophobia in the context of rural isolation."
Rozeanne'sprojectcould yet unlock more funding for the charity: her work underpins anapplicationfor £120,000 from the UK's Comic Relief tohelpthe charity's childcare team,andwas part of an application for £500,000 to the Big Lottery Fund, for aninitiativefocused on the needs of older people in relation todomesticviolence, said Ms Flood.