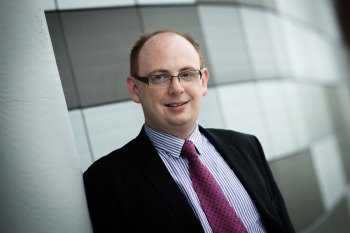 Dr David Barr, Head of the School of Modern Languages
The University of Ulster has been named as the organiser of the world's largest international gathering of Computer Assisted Language Learning educators.
WorldCALL, the global professional association for teachers of computer assisted language learning, will hold its fourth major conference in July 2013.
Over 500 delegates are expected to attend the convention, which will be hosted at the Scottish Exhibition and Conference Centre (SECC) in Glasgow.
It will be the first time that the worldwide organisation has held its conference in Europe, with previous events being hosted in Tokyo, Banff, and Melbourne.
Dr David Barr, Conference Chair and Head of the School of Modern Languages at Ulster, said: "To be awarded the honour and responsibility of organising this international event, which will be the first and largest gathering of Computer Assisted Language Learning educators in Europe, is a thrilling challenge. It is also a testimony to the high regard in which the University's language provision is held all over the world.
"Ulster fought off stiff international opposition to host this conference and the selection committee were particularly impressed by our previous experience of organising CALL conferences.
"The University has pioneered the use of communication technologies to facilitate and enhance language learning opportunities for our students and the Coleraine campus currently hosts the headquarters of the European Association for Computer Assisted Language Learning (EUROCALL), with both the Secretary and Treasurer based here.
"This conference will examine the sustainability of CALL and encompass topics such as the virtual classroom, social networking, innovative teaching and online language communities, to name but a few."
For further details of WorldCALL 2013, visit: http://www.worldcall2013.org/.