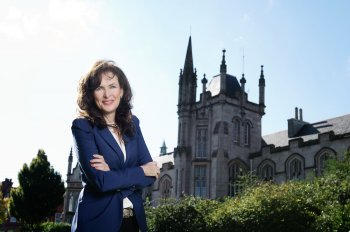 Professor Deirdre Heenan, Provost of Magee
Leading digital media and creative industry experts from the University of Ulster will showcase their skills at Derry ~ Londonderry's CultureTECH Festival this week.
More than 1,000 delegates will converge on the city for the four-day celebration of digital culture and technologies which kicks off today (Wednesday 29 August).
Welcoming CultureTECH, Professor Deirdre Heenan, Provost of the Magee campus said: "This is an enormously exciting event for the city, and the University of Ulster is delighted to participate not only through sponsorship, but also through inspirational contributions from some of our leading creative minds.
"I congratulate the organisers on bringing together such a diversity of talent, and wish them and CultureTECH every success."
Tim Brundle, Director of Innovation at Ulster, will take part in a 'TED-style' big ideas session on Friday 31 August at the Millennium Forum, covering everything from music to marketing to tech investing.
Tim's talk, which is entitled 'Painting pictures on the internet: some observations about investing in digital media', will outline the attributes of good technology projects and companies, and explain how to spot them and how to support them.
He said: "This four-day festival recognises the growing significance of the city as a cultural destination and a hub for new technology development.
"The University of Ulster plays a significant role in the city's advancement through the provision of talented and ambitious graduates, the development of creative thought and the application of technology."
Ulster's Office of Innovation is also sponsoring the Gaming and Interactive Content segment of the Festival programme which is taking place on Thursday 30 August in the Millennium Forum.
One of the keynote speakers for this part of the event will be Anita Stokes, University Relations Manager at world-renowned Lucasfilm – one of the most successful independent production companies in the world and producer of the Star Wars films as well as many other box office hits such as Indiana Jones.
Anita is responsible for the Lucasfilm internship programme and helps bridge the gap between various Lucasfilm departments and academia through the JEDI Academy Program.
CultureTECH will also include contributions from University of Ulster Professor of Animation, Greg Maguire, Digital Animation lecturer, Connan Fitzpatrick and Interactive Media Arts lecturer, Alan Hook.
For full details of the CultureTECH Festival programme visit: http://www.culturetech.co/