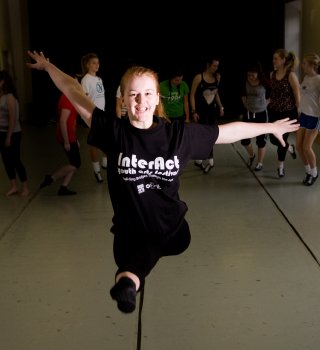 Stephanie Burton picturedatthe Fused Academy of Dance taking placeon theMagee campusthis week
Dancers from across the North West are taking part in a unique dance summer school at the University of Ulster's Magee campus this week.
Young Irish and contemporary dancers will create an eclectic performance under the guidance of dancers from professional dance company Assault Events, which will be showcased at the Millennium Forum.
The Fused Academy of Dance, delivered by the University's Dance Outreach Programme, 'Satellite', in partnership with the Millennium Forum, is part of the InterAct Youth Arts Festival, taking place at venues throughout Derry City this week.
Stevie Prickett, professional dancer, choreographer and lecturer in Dance at Magee, said: "The Fused Academy of Dance gives young people a unique opportunity to blend two styles of dance that may not traditionally be intertwined.
"They will work intensively, directed by myself and Irish and contemporary dancer Claire Mullan, who is currently BBC Performing Arts Fellow with Assault Events, to learn new skills fusing Irish and contemporary dance styles.
"The culmination of the summer school will be the creation of a one-off, new dance performance like no other which will be staged as part of the InterAct 2012 Showcase event in the Millennium Forum on Friday 17 August."
For further information visit: www.interactyouth.com