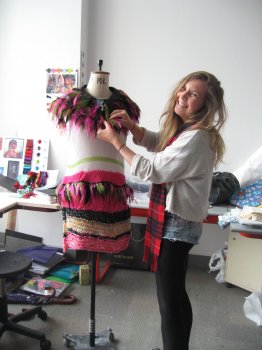 Exclusive creations from second year fashion students at the University of Ulster will be showcased next Friday (May 4) on a fabulous purpose-built, 150-foot long runway stretching out over the River Lagan.
The work will form part of a spectacular style extravaganza at the uber cool El Divino nightclub, which will feature many of Northern Ireland's highly established as well as up and coming fashion designers.
The 18 outstanding second year University of Ulster students spent just seven weeks on their individual, one-off pieces using the theme 'Third World, Second hand, First Time Round.'
And the event provides the perfect platform for Ulster's future fashion designers to show the industry and the wider public the high caliber of their creative talents.
Janet Coulter, Senior Lecturer in Textiles and Fashion Design, said it was a great privilege for the students to have been chosen to have their work exhibited at such a prestigious event in the Northern Ireland fashion calendar.
"We are genuinely delighted to have been given the opportunity to take part in the El Divino show, which is being staged at this exciting location at Belfast's Waterfront," she said.
"It was a very challenging module and has really helped the students to understand the intensity of work that is required for their final year programme of study and has provided them with an excellent industrial portfolio.
"The wonderful thing about this show is that it gives a real platform and showcase for the fashion industry – and Belfast at large – to see what incredible work our students can produce.
"It raises the profile of the University, allowing people to see that we are creating genuine product designers, capable of unique design, who are highly employable in the industry."
The students used a number of disciplines to produce their exclusive outfits, each choosing their own interpretation of the theme, 'Third World, Second Hand, First Time Round.'
Explained Janet: "It's a real credit to them all that they finished the project within seven weeks. They developed their work through design and pattern cutting but also used knitting, embroidery, laser cutting, digital printing and screen-printing, so there were a lot of different skills.
"After generating their ideas they also had to produce storyboards and create a prototype garment before producing their final piece."
One of the students whose work is gracing the catwalk is 21-year-old Fawn Miskelly from Belfast who took the inspiration for her creation from African carnival traditions.
She explained: "I discovered that some African tribes use feathers in their costumes as a symbol of how they can overcome problems such as poverty, illness and heartbreak and this really motivated me.
"The collar is made up of layers of laser cut leather and feathers, influenced by the head dresses of the Rabara Tribe and the dress is a combination of both machine and hand knitting and more feathers."
A total of 30 models will be gracing the event which begins at 7.30 next Friday May 4 and is hosted by El Divino and Style Academy model agency.
Style Academy Director, Tracey Hall, said: "This is a truly unique fashion event for Belfast in an exciting and developing area of Belfast on the river Lagan. I have not doubt that it will grow to become a stand out event on the Irish fashion calendar."
Tickets for the show, which begins at 7.30pm, are available by contacting El Divino on 028 90322000 or by emailing Hannah@styleacademy.com. The first 200 are priced at £20 with the remaining increasing to £25.
CAPTION: Fawn Miskelly puts the finishing touches to her African inspired creation in preparation for the forthcoming El Divino fashion extravaganza