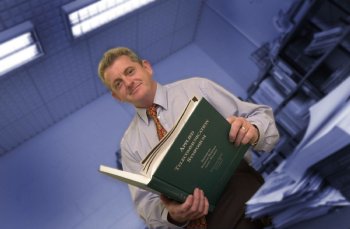 Professor Gerard Parr
A University of Ulster academic is spearheading the latest phase of a multi-million pound joint UK and Indian research project to boost India's Internet capabilities.
Professor Gerard Parr, who is Chair in Telecommunications Engineering on the University's Coleraine campus, is the UK's principal investigator for a £10 million India-UK ICT research consortium of nine research-leading UK universities.
The £10 million project – the largest between the two countries and which will employ 200 scientists - will help improve the quality of millions of lives in India and the UK.
UK's Minister for Universities and Science David Willetts announced the £10 million funding boost for the project during a meeting with Indian Science and Technology Minister Vilasrao Deshmukh in London today (Wednesday April 18).
The £10 million investment will support the second phase of research into next generation Telecommunications networks – the development of state-of-the-art platforms and applications that will carry voice, video and data in the future on the Internet.
The research is a key part of the work of the India-UK Advanced Technology Centre (IU-ATC), a collaborative programme funded by the UK's Engineering and Physical Sciences Research Council (EPSRC), the Government of India's Department of Science & Technology (DST) and industrial partners in both countries.
The funding announcement came after months of hard work leading up to a joint panel meeting of UK and Indian scientific experts, co-ordinated by Research Councils UK (RCUK) India, a representative office for EPSRC in India.
On behalf of EPSRC, RCUK India has been working with DST, since the start of the first phase of this collaborative project in 2009. This latest funding will allow the Centre to focus its efforts on developing low-cost solutions for rural access to broadband, improved use of available spectrum as well as applications for rural health monitoring, emergency and disaster communications, social TV-Virtual Classrooms and other services.
Professor Parr, who is based in the School of Computing and Information Engineering in the Faculty of Computing and Engineering at Ulster's Coleraine campus and Professor Ashok Jhunjhunwala from the Indian Institute of Technology, Madras are the UK and Indian principal investigators for this major joint research initiative, the ultimate aim of which is to develop solutions that will benefit the lives of millions of users in the future Digital Economy.
Welcoming the funding success Professor Parr said: "I am delighted that EPSRC and DST have given our team the opportunity to further develop our plans and focus our efforts in order to derive maximum impact and benefit from our research activities.
"This is a very significant initiative representing over £20 million of investment from government, industry and academic partners in both countries for both phases. We intend to work closely with our funders and industry to ensure we fully exploit the promise of technological advances in Next Generation Networks. The IU-ATC represents an internationally renowned research and innovation eco-system which we intend to grow over the coming years."
Ulster is the lead UK institution in a consortium of nine research-leading UK universities including the University of Surrey, Lancaster University, Queen Mary, University of London, Southampton University, University of St Andrews, University College London, University of Bristol, and the University of Cambridge.
They are joined by seven top Institutes of Technology (IITs) in India: IIT Madras (Lead), IIT Delhi, IIT Mumbai, IIT Mandi, IIT Kanpur, IIT Hyderabad, and IISc Bangalore.
In recent years, Ulster academics have responded to the growing global demand for affordable and energy efficient broadband applications and services by researching new technologies to meet the needs of the emerging digital economy in the UK and India. Such solutions will also apply to other countries such as Brazil, China and the Middle East, said Professor Parr.
Announcing details of the funding boost at the high-level India-UK Ministerial Science and Innovation Council, David Willetts said: "This £10 million investment will build on the UK's excellent record of research collaboration with India. It will bring together leading universities and institutes from both countries to develop technological solutions to a range of important issues, from rural health to disaster response."
Dr Liam Blackwell, Head of EPSRC's ICT Theme said: "This next phase of the India-UK Advanced Technology Centre project is expected to contribute to leading edge international collaboration in ICT research which will benefit both countries and develop their capabilities." The three high level research activity areas within the IU-ATC are:- Applications and Services;Core Network Systems and Protocols;Heterogeneous Wireless Access Networks; Each research area has a UK-India Chief Monitor that reports to an Executive Board. Additionally, a group of major ICT companies in both countries will collaborate with the consortium on the research agenda.
Lead UK industrial partner, BT Innovate and Design, is joined by Toshiba Research Laboratories Europe. In India there is direct engagement from companies such as Infosys, Wipro and Sasken together with SMEs.
The first phase of the joint research initiative started in June 2009 with £5 million funding from EPSRC-DST and £4.2 million co-funding from industry and academic partners in both countries.
During this phase methods and templates for collaboration, governance agreements and Intellectual Property Rights management frameworks have been adopted by EPSRC, the British Council and the Intellectual Property Office of the UK Government. Significant outputs have already been generated by the team in terms of scientific publications, technology demonstrators and patents.