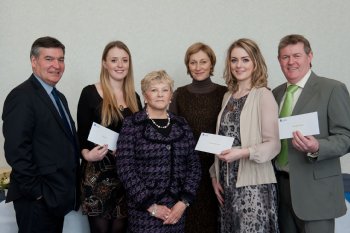 L-R: Vice Chancellor, Professor Richard Barnett, Julie Scott, Dr Linda Beard, Head of Alumni and Development, Kate Bond, Rhiannon Ewing-James and Tony Mac Ruairí
Ceramic artists Julie Scott and Rhiannon Ewing-James and Celtic scholar Tony Mac Ruairí are this year's winners of the Richard K. Degenhardt Belleek Collectors' Scholarships.
They are international scholarships of one year's duration awarded annually to outstanding Ceramic and Celtic Studies students from the University of Ulster.
The awards were established to enhance students' opportunities for personal as well as educational development.
Dr Linda Beard, Founder and Chair of the Richard Kennedy Degenhardt Belleek Collectors' Scholarship Endowment Fund, presented the awards of £600 each to the winning students at a special ceremony at Ulster's Coleraine campus.
They also received a piece of Belleek Pottery presented by Belleek designer, Marie McGrellis.
Dr Beard said: "I am delighted to have such strong links with the University of Ulster and to be back at the Coleraine campus for the annual Richard K. Degenhardt Belleek Collectors' Scholarship presentations.
"Twenty seven scholarships have been presented to date and these are a living memorial to Richard and his love of Belleek. He would certainly have been very proud of how the Scholarships have helped so many worthy students."

Julie Scott from Holywood, County Down, is a third year ceramics student with a keen interest in 'making' methods that capture both texture and fine detail. Julie will use her award to travel to Sculpture Lounge Studios in Yorkshire to work with contemporary ceramicist Brendan Hesmondhalgh on a four day ceramics course. She will also attend the Ceramics Ireland International Festival in Kilkenny.

Rhiannon Ewing-James from Craigavon, is a second year ceramics student. Rhiannon will undertake a residency in the Leach Pottery Studio, Cornwall, St. Ives, working with the internationally-renowned potter Jack Doherty. She will have the opportunity to develop her technical skills working as an assistant to the international artists in residence.

Tony Mac Ruairí, from Letterkenny, is in his final year of a part-time Irish Language and Literature degree. Tony will use his award to compile and publish a complete collection of the songs and poetry of Seán Bán Mac Grianna – a community poet, storyteller, linguist, genealogist and historian from County Donegal. He will also share his poetry and verse in a series of lectures for local schools and colleges.

Established in May 2001, the Richard Kennedy Degenhardt Belleek Collectors' Scholarship Endowment Fund has now provided 27 outstanding University of Ulster students with the opportunity to expand their knowledge and undertake research they would not otherwise have been able to carry out.

The scholarships are funded through the generosity of many individuals and groups, including Belleek collectors world-wide, international Belleek Chapters, special friends and family of Richard K. Degenhardt, the Belleek Pottery and the Belleek Collectors' International Society.

The awards are named in memory of the late Richard Kennedy Degenhardt who was instrumental in establishing the Belleek Collectors' International Society. The scholarships are a tribute to his definitive knowledge of Belleek Parian China, which remains renowned among collectors world-wide today.