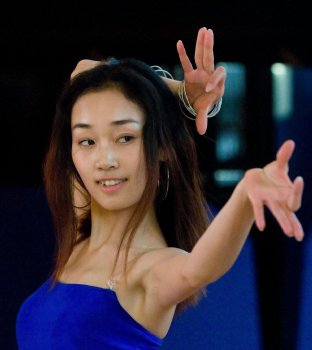 Dancer Ren Na who performed during a chinese cultural evening in the Great Hall at the University of Ulster's Magee campus
Celebrations to mark the launch of the Confucius Institute at the University of Ulster moved to Magee today with a networking event for local businesses.
The breakfast initiative entitled 'Doing Business in China', explored opportunities for companies in the north-west to build relationships in the Chinese marketplace.
Speakers at the event included Homson Shaw, Zhejiang University of Media and Communications and Co-Director of the Confucius Institute, Professor Cathal Brugha, University College Dublin and Philip Gilliland, President of Londonderry Chamber of Commerce 2013.
Eddie Friel, from Ulster's Office of Innovation, said: "Local companies are always looking to develop their export markets and, China, given its position as the world's most populous nation, provides a massive opportunity.
"It is important that companies research their markets thoroughly and are aware of the issues which may confront them, particularly when trying to access a market with a different business culture.
"The University of Ulster currently has two of its Spin-Out businesses active in the Chinese market. It has proven to be an excellent sales opportunity, as well as a supplier, providing competitive advantage to our own technological base.
"Participants at the event today had the opportunity to hear from speakers who have significant experience of issues that might confront local businesses when breaking into new markets, and have been given excellent guidance on how they might overcome such challenges."
The Business Breakfast at Magee is just one of a series of events organised as part of Chinese Culture Week, celebrating the launch of Northern Ireland's only Confucius Institute at the University of Ulster.
Staff and students also enjoyed an evening of Chinese dance and song in the Great Hall on Tuesday with performances from tenor Li Liping, pianist Kuang Zhen, erhu artist Professor Wu Hongfei, flautist Dr Liu Zhi Hong and dancer Ren Na.
For further information on Chinese Culture Week or to view a full programme of events across the University of Ulster's four campuses visit: http://www.ulster.ac.uk/confucius/