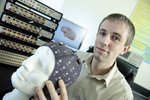 A University of Ulster academic is at the helm of one of the Institute of Electrical and Electronics Engineers' (IEEE) Computational Intelligence Society's (CIS) most progressive and successful chapters.
Dr Damien Coyle, a lecturer in the School of Computing and Intelligent Systems at the Magee campus, chairs the IEEE Computational Intelligence Society UK/Republic of Ireland (UKRI) Chapter, which has just been named winner of this year's IEEE Region 8 Best chapter award.
The IEEE has 38 technical Societies that provide benefits to members within specialized fields of interest. Each year IEEE Region 8 - which covers Europe, Middle East and Africa -organises the chapter of the year awards. The award is for 2011 activities and is open to all chapters in Region 8 and across all IEEE societies.
Last year was a particularly busy one for the IEEE CIS UKRI chapter with a packed programme of seminars, lectures, technical visits, forums, panels, meetings, workshops, conferences, and networking opportunities.
Dr Coyle said: "I am delighted to be able to receive this award on behalf of the chapter and its 297 members. Since I became chapter chair in 2008 we have tried to build on the leadership of my predecessor to create a chapter which is active and engaging and is of real benefit to CI researchers across the UK and Republic of Ireland. The IEEE Computational Intelligence Society has grown from strength to strength since its formation and it is great that the UKRI chapter is contributing significantly to the society and assisting its members at a local level.
"The chapter is relatively large and spread over two islands Great Britain and Ireland so we are striving to make an impact and engage members over a large area. We want the UKRI CIS chapter to be an integral part of the CI research community in the UKRI and ongoing efforts and plans for the future to achieve this are currently being actively pursued."
This is the latest international accolade for Dr Coyle who is a member of the Intelligent Systems Research Centre at Magee, having been awarded the IEEE Computational Intelligence Society's Outstanding Doctoral Dissertation award in 2008 and the International Neural Network Society's Young Investigator of the Year award for his outstanding contributions in the field of neural networks in 2011. Both these societies are leading the field of neural networks.In 2011 he was also awarded a Distinguished Research Fellowship by the University of Ulster.
The IRSC currently has around 80 researchers from 15 countries and their ground-breaking work in 'intelligent systems' has earned the centre an international reputation for innovative research.While the ISRC's reputation for ground-breaking research has helped attract internationally renowned scientists to the Magee campus, Dr Coyle is one of a growing number of 'home grown' academics to have come up through the ranks there.
Technologies produced from Dr Coyle's research are currently being tested with various clinical groups including spinal cord injury, stroke and disorders of consciousness at the National Rehabilitation Hospital of Ireland in Co Dublin.
Caption Dr Damien Coyle, alecturer in the School of Computing and Intelligent Systems at the Magee Campus, who chairs one ofthe IEEE Computional Intelligence Society's (CIS) most progressive and successful chapters.