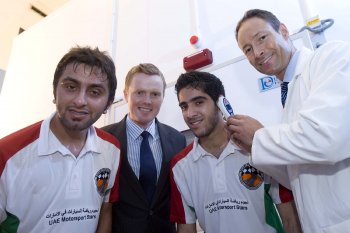 Two rising stars of world motor sport from the United Arab Emirates have been taking part in an intensive training course at the University of Uster's multi-million pound sports facilities this week.

Tipped to be future Formula 1 drivers, Mohammed Al Dhaheri and Mohammad Al Mutawaa, were selected as the first ever UAE Motorsport Stars in July to participate in the course at the Jordanstown campus.

Led by the University's highly experienced team of sports scientists, the drivers participated in six days of intensive training, focusing on key areas such as nutrition, fitness, mental preparation, career management and media handling.

Dr David Hassan, from the Ulster Sports Academy, said the selection of
Ulster as the preferred training site for two of world motor sports up-and-coming stars is a major coup.

"What we're talking about here are two future stars of four-wheel motor
sport. The fact that one of the leading motor sport federations in the world
has decided to entrust their very best drivers to Ulster is a remarkable
testimony to the level of support available to such athletes at the
University," Dr Hassan said.

The UAE Motorsport Stars programme is a joint initiative by the Automobile &
Touring Club of the United Arab Emirates (ATCUAE) and the University of
Ulster, and is designed to identify talented young drivers and teach them
the necessary off-track skills that are required to be a successful motor
sport athlete.

Asked what he hopes to achieve from the training, Mohammed Al Dhaheri said: "I think the training will have a really positive effect on my racing
career and will help me step up to the next level. It is also perfectly
timed as it will form a big part of my preparation for the Rotax Max
Challenge Grand Finals, which will be held in my hometown of Al Ain in November and where I will be proudly representing the UAE."

The drivers are being accompanied on their trip by ATCUAE personnel and a film crew from the Dubai Sports Channel. Dubai Sports are producing two television shows covering the UAE Motorsport Star programme, the first of which will focus on the testing and selection process held in Dubai during July, and the second will show Mohammed Al Dhaheri and Mohammad Al Mutawaa's training at the University.
Caption: Mohammed Al Dhaheri, Dr David Hassan and Mohammad Al Mutawaa and Dr Gareth Davison at the University of Ulster.