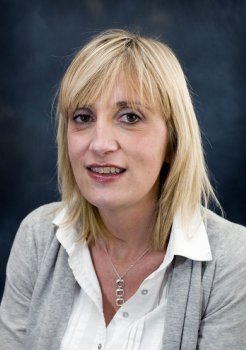 University of Ulster Reader, Dr Sonja McIlfatrick, has been appointed Head of Research at the All Ireland Institute of Hospice and Palliative Care (AIIHPC).
The Institute was set up to improve the experience of palliative and end of life care throughout Ireland and focuses on key areas including research and policy, education and practice.
Formally established last year, the AIIHPC is a consortium of 12 partner organisations made up of health agencies and universities, including the University of Ulster.
Dr McIlfatrick's new position will allow her to continue in her current role as a Reader at the University and Postgraduate Tutor for Doctoral Students in the Institute of Nursing Research.
She said: "I view this as an exciting personal challenge and a great opportunity to help develop stronger collaboration and capacity for hospice and palliative care research throughout Ireland.
"The University of Ulster is a collaborating partner in this initiative and this involvement shows our dedication and commitment to progressing this agenda."
University of Ulster's Pro Vice Chancellor (Research and Innovation) Professor Hugh McKenna said: "The appointment of Sonja to this important research position is the culmination of many years of collaboration between the University of Ulster and palliative care organisations.
"Our aim is to work with partners within AIIHPC to make a positive difference in this field of care."
Dr McIlfatrick holds several posts within the area of palliative care. She is the lead for the palliative care research strand within the Managing Chronic Illness Centre (INR), Chair of the Northern Ireland Palliative Care Research Forum and is a member of both the Palliative Care Research Society (PCRS) and European Association of Palliative Care (EAPC).
As well as Dr McIlfatrick's appointment, the Institute has also announced the appointment of Michael Connolly from University College Dublin, who is to take up the post of Head of Education.
Commenting on the new posts AIIHPC Director Paddie Blaney said they were delighted to welcome Dr McIlfatrick and Mr Connolly onto the Institute's Executive Team.
"The high calibre of both candidates and the combined experience they bring with them to the Institute means we can focus our efforts across the work packages of education, research and policy and practice," he said.
"AIIHPC's aim is to improve the palliative and end of life experience on the island of Ireland and to do this we need creative and capable leadership.
"I'm confident that Sonja and Michael bring that type of leadership and they will make a fantastic contribution to the Institute's development."