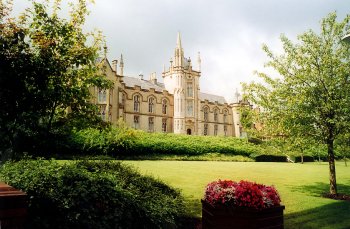 A World Masters Champion, a computer software specialist and an internationally renowned marketing guru will share their expertise with local entrepreneurs at a breakfast seminar in the Great Hall at the University of Ulster's Magee campus this Friday.
The event – which is open to anyone who wants to know how to improve their firm's performance – is part of the prestigious Irish Times Innovation Cities Roadshow series being staged throughout Ireland.
Hosted by the University's Office of Innovation, the Northern Ireland seminars will delve into leading business issues and offer practical ideas on how to develop performance.
Eddie Friel, Head of Business Liaison & Academic Enterprise at the University's Office of Innovation, says the primary aim of the Innovation Roadshows series is to champion and promote economic and social innovation throughout Ireland.
"The Office of Innovation is delighted to be associated with these dynamic networking events which will give entrepreneurs a chance to hear about people's experiences and learn from their expertise. The talks will be short, sharp and interesting and there'll be an opportunity to ask questions afterwards.
Speakers at the Magee seminar on Friday are Dr Lisa Bradley, Dermot McCauley and Professor Stephen Brown.
Dr Bradley is Head of the Department of International Business at the University of Ulster's Magee Campus. She is also an accomplished sportswoman with many titles under her belt. A past pupil of Thornhill College, Dr Bradley joined the lecturing staff of the Department of Retail and Financial Services at the Ulster's Coleraine campus in 2002. She holds a third Dan black belt in judo, and was a silver medallist at the 2002 Commonwealth Games as well as being twice World Masters champion.
Although Lisa was only introduced to judo when she was fifteen, she has travelled the world - Brazil, Canada, Mauritius, China, Japan, as well as throughout Europe – to compete at the highest level. She no longer competes but is still actively involved in judo through coaching. The theme of her presentation will be 'Charting Wider Horizons'. Dermot McCauley, Director Sales & Marketing, Singularity will give an overview of
Enterpreneurship. The title of his talk will be '3 Things I should have done sooner'.
A graduate in Mathematics from Imperial College, London, Dermot began his career in computer software engineering at systems integrator Sema before moving to JPMorgan Chase, the US financial services company. Once in the US, he joined three friends in a 4-person start-up business that employed 140 people by the time it was acquired by a Nasdaq-listed Hi-Tech company in 1995. He subsequently held several executive positions in publicly quoted high-growth technology firms in the US before joining Singularity in 2003.
Professor Stephen Brown, Professor of Marketing Research, University of Ulster will give a talk on 'Breakneck Branding': Everything you Need to Know in Nine Minutes.'
Professor of Marketing Research at the University of Ulster, Stephen Brown has written more than twenty books, including a bestseller on Harry Potter's brand magic. He is a four-time winner of the Academy of Marketing Best Paper prize; the first European to be awarded the Association for Consumer Research Best Paper prize; the recipient of Harvard Business Review's "Best Breakthrough Idea" for 2002; and, according to the Chartered Institute of Marketing, he ranks among the world's top 50 marketing gurus. Earlier this year the University of Ulster academic received a ringing endorsement from the high profile 2011 Consumer-Brand Relationship summit in Orlando, Florida, when he won the Best Paper Award – of some 150 detailed analytical speeches and presentations made during the three-day convention.
To register and reserve your free place at the Irish Times Innovation Cities Roadshow seminar visit www.irishtimes.com/innovation