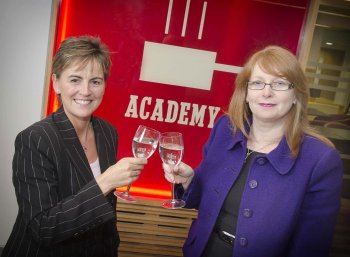 One of Northern Ireland's most successful hospitality entrepreneurs has swapped the boardroom for the classroom after being appointed a lecturer at the University of Ulster.
Nikki McQuillan, former co-founder and Director of 'the streat' café franchise chain, took up her full-time post in the Ulster Business School's Department of Hospitality and Tourism Management at the Belfast campus this week.
She said: "I'm really excited about this new chapter in my career and see it as a real opportunity to use my experience of business life to contribute to the Ulster Business School's aim of developing young professionals for industry.
"What the industry needs more than ever is young professionals who can think both independently and strategically when ma king decisions either in their own business or for an employer. Our young professionals will also know a 'hands on' approach and be encouraged to develop the fundamental business skill of networking and building relationships."
Mrs McQuillan, who herself graduated from Ulster with an MA Human Resource Management, will be lecturing in the area of event management on the BSc in International Hospitality Management and the MSc in Event Management.
"My role in the streat was as Human Resource Director and Senior Project Manager. A significant part of this role was to organise various events such as the annual conference for the network of franchisees and also the franchisee recruitment stands at exhibitions in the RDS in Dublin and NEC in Birmingham. I was also part of the organising committee for Tall Ships event at the Odyssey."
Indeed she began her career in a contract catering firm and worked on big events like the Royal County Down Centenary Celebrations and the Lord Mayor's Show in Belfast.
Mrs McQuillan also acts as a consultant for the Alliance of Sector Skills Council in Northern Ireland – an independent organisation, which provides a unified voice for the 20 employer-led sector skills councils in Northern Ireland.
The Alliance influences government and other stakeholders to support the skills training required to meet employers' needs toward increasing productivity within businesses for the Northern Ireland economy.
Dr Una McMahon-Beattie, Head of Department of Hospitality and Tourism Management, said: "We are delighted to welcome Nikki to the Department, she brings a wealth of knowledge and industry experience and this can only be of benefit to our students.
"We want to produce a can-do graduate so that they are not just academic but can also perform in a job and that's why the practical experience that Nikki can bring to the classroom will be vitally important."
The well-known businesswoman set up the streat with her husband, Michael, in 1999. The chain, which now has 37 outlets, employs around 350 people and has an annual turnover in excess of over £8 million.
The business was acquired by the Henderson Group last year, but Michael has remained as Managing Director, and is also a Visiting Professor at the Ulster Business School.
Commenting on Mrs McQuillan's appointment, Professor Marie McHugh, Dean of the Ulster Business School said that "as a highly successful entrepreneur, Nikki brings to the School expertise that will of great benefit to the next generation of hospitality and tourism management graduates.
"Through Nikki's appointment, the Ulster Business School continues to demonstrate a firm commitment to ensuring that its students are exposed to a very high quality teaching experience that combines academic knowledge with real life business experience."
The husband and wife team will join forces again to contribute to the Department's International Conference on Tourism and Events: Opportunities, Impact and Change on 20-22 June 2012.
Caption: Toasting a new career at the University of Ulster: Nikki McQuillan and Dr Una McMahon-Beattie.