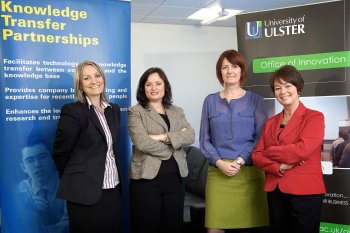 Social enterprises from across Northern Ireland are reaping the rewards of doing business with the University of Ulster. Representatives from the sector attended an event hosted by Ulster's Office of Innovation Knowledge Club at the Magee campus this week to showcase how the university is helping the social economy sector introduce innovative practices to business activities.
Kerry Patterson, Business Liaison Manager with Ulster's Office of Innovation, says social enterprises that have accessed Ulster's expertise have noticed a marked improvement in their performance.
"There is a wealth of expertise across the University's four campuses and this is available to social enterprises through a number of business support initiatives like InvestNI Innovation Vouchers, Knowledge Transfer Partnerships and the Science Shop. These programmes are designed to encourage innovation and business growth and the support can be tailored to meet the specific needs of individual enterprises."
She adds: "Businesses that have accessed support have reported a real impact on their economic and social outputs." Opening the event, John Thompson, senior lecturer in the Ulster Business School's Department of Management and Leadership encouraged attendees to be open to the idea of innovation. He invited them to think ahead to create a vision of where they wished to be in the future. Borrowing loosely from the Walt Disney creative process, he said the dreamer created the vision while the realist and critic made sure it was grounded enough to succeed.
His presentation was followed by a series of inspiring stories from people behind some of Northern Ireland's most successful social enterprise projects, highlighting how tapping into the university's expertise has helped them make a real difference in their local communities.
Peter MacCafferty, of Derry based Cúnamh ICT, Janet Schofield, Compass Advocacy Network (CAN), Audrey Murray, LEDCOM and Lisa Griffin and Lynn McCourt, Bryson Charitable Group all shared their experiences of benefiting from accessing Ulster's skills. Participants also heard from Avert Training about how Invest Northern Ireland's Social Entrepreneurship Programme is bringing invaluable support to social enterprises in the North West.Cúnamh ICT develops both bespoke and off-the-shelf high quality database solutions for its customers, many of whom are in the community and voluntary sector.
Peter MacCafferty Managing Director of Cúnamh ICT, said they had really benefited from the Innovation Voucher programme.
"It allowed us to access the expertise of academics at Ulster and, as a result, we were able to make significant improvements in terms of development times and deliverables.
"The Voucher also helped us bring new and advanced skills to our staff, enabling us to offer a wider variety of cost effective data solutions to our customers and we are now in a stronger position and better equipped for new market opportunities at home and internationally."

For further details on the University's support for social enterprises contact Kerry Patterson, Office of Innovation, University of Ulster, tel 02890 368603, email k.patterson@ulster.ac.uk

Caption
Amanda Fullerton (Office of Innovation), Lisa Griffin (Bryson Charitable Group), Kerry Patterson (Business Liaison Manager, Office of Innovation) and Lynn McCourt (Bryson Charitable Group).