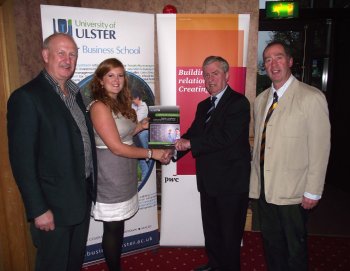 A business student has won a £5,000 bursary from leading international management consultancy PricewaterhouseCoopers to fund a postgraduate course at the University of Ulster.
Sarah Black from the city of Armagh, a Business with Accountancy graduate, was recently presented with the award, which is part of an ongoing £25,000 commitment to the MSc Applied Management course at the Ulster Business School in Coleraine.
She said: "I was delighted to win the bursary - it has lifted a big financial weight off me. The bursary will cover the MSc fees and that made it a lot easier to go ahead with the course.
"I wanted to study the Masters as it will open many more doors for me when I start looking for a job. I've spoken to people who completed the programme and they said it is a really practical course that includes a placement."
Dr Norry McBride, Course Director of the PgDip/MSc Applied Management said: "We are delighted that Sarah Black, as one of our previous graduates, has won this year's PwC bursary competition, which is now in its third year.
"We appreciate Professor Bob McCullagh and PwC's ongoing financial commitment to the programme as well as their practical support in delivering the Management Consultancy module on the course. On behalf of the Ulster Business School we wish Sarah every success with her future studies."
Leading economist, John Simpson, chairman of the judging panel, presented the award to Sarah.
To win the bursary graduates had to complete a 750-word report making a business case to buy a franchise to the board of a fictitious computer hardware company operating in the public sector.
Caption left to right: Professor Bob McCullagh from PwC, bursary winner Sarah Black, economist John Simpson and Dr Norry McBride Course Director of MSc Applied Management.