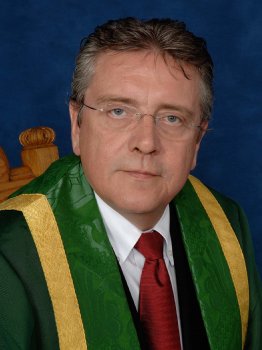 The funeral service for Professor Jim Allen, former Pro-Vice-Chancellor and Provost of Magee, will be held in Ebrington Presbyterian Church, Londonderry on Monday 17th October at 10.30am followed by cremation at Roselawn Crematorium, Belfast at 2.30pm.
Professor Allen, 59, was a pivotal figure in the growth of the University of Ulster's Magee campus over the past decade.
A distinguished biomedical scientist, Professor Allen was a native of Londonderry and a former pupil of Foyle and Londonderry College.
Educated at QUB, he joined the then Ulster Polytechnic in 1977 as a lecturer in Physiology and Biochemistry, progressing in his career to become the first Director of the Biomedical Sciences Research Centre at the University in 1989, and Head of the Biotherapeutics Research Group in 1993.
He was appointed to a personal Chair of Physiology in 1995, and became Head of the Faculty of Science Research Graduate School in 1995, and Dean of the Faculty of Social & Health Sciences and Education in 1997.
Professor Allen moved into the senior management echelon of the University in 2000, when he was appointed Pro-Vice-Chancellor for Student Support, and Provost of the Magee campus. He continued to serve as a Pro-Vice-Chancellor with a range of portfolios, and as Provost of Magee from 2006 until his retirement earlier this year.
Committed to sport, Professor Allen served on the Ulster Sports Academy management board, and worked tirelessly to see the construction and commissioning of the £20m High Performance Centre at Jordanstown, which has done so much to enhance sporting achievement at the University. He also chaired the Sports Institute for Northern Ireland, and was a member of the Olympics Northern Ireland Task Force.
In his role as Provost of Magee, Professor Allen represented the University on a wide range of bodies, including the Derry Investment Initiative and the Lononderry Chamber of Commerce. He also served on the Board of Governors of his old school, Foyle and Londonderry College.
Professor Deirdre Heenan, who assumed the role of Provost earlier this year, after ill-health forced Professor Allen to step down, paid tribute to his work and achievements:
"We are all saddened by this tragic news. Jim was admired and respected by all who knew him, whether professionally or personally, and the University is diminished by his loss.
"His tireless commitment and boundless energy in the service of the University in general, and of Magee in particular, were an example to us all.
"Jim Allen was a real gentleman: his sound advice, unfailing good humour and great generosity of spirit will be greatly missed."
NOTE: House strictly private. Family flowers only. Donations in lieu, if desired, to Cancer Research UK c/o Adair & Neely Funeral Directors, 92 Duke Street, Waterside, Londonderry. BT47 6DQ.