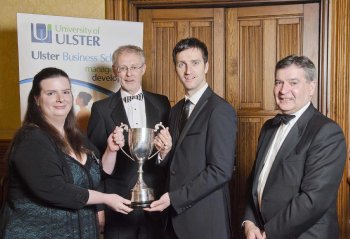 A number of University of Ulster students have received awards for outstanding performance from the professional body of company secretaries and corporate administrators.
The three award winners - Terri Doherty from Strabane, Alison Allen from Antrim, Rhona Kelly from Mullingar – study MSc Management and Corporate Governance at the Ulster Business School.
The Institute of Chartered Secretaries and Administrators (ICSA), Northern Ireland branch, hosted the annual event at the Reform Club in Belfast. The Awards are sponsored by a number of local businesses.
They were presented with their certificates from 'Apprentice' finalist Jim Eastwood and ICSA UK President Ron Rosenhead.
The University's Ulster Business School runs an MSc in Management and Corporate Governance, which also gives students graduate membership of the ICSA – this is one of the few courses in the UK and the only one in Ireland, to offer this dual qualification.
The University runs two courses - at the Jordanstown campus and in Dublin.
John Thompson, Course Director of the MSc Management & Corporate Governance, said: "The great success of the MSc in Management and Corporate Governance is due to a partnership between the professional body, ICSA, the Ulster Business School and employers.
"Over 62 students will graduate from the course in December 2011 with graduate membership of ICSA. Many of the full time students are now employed in the professional area, this is a particular strength of the course – it gives students both a valuable academic and a professionally relevant qualification, which is in demand by employers.
"In relation to the class of 2009/10, 90% are in graduate level jobs and of those who graduate in December this year 60% have already secured graduate level employment. Students leave the course with highly sought after skills and we are delighted that their achievements are recognised by those who sponsor awards for outstanding students such as the ICSA and employers who such as Ulster Bank and Deloitte."
Chair of the ICSA Northern Ireland, Tzvetelina Bogoina-Seenan, said: "The ICSA Northern Ireland Branch welcomes the opportunity to celebrate the success of the students and to welcome them to the Institute at its annual dinner. The excellent job success of graduates shows the value to employers of the ICSA and University working together to increase the number of vocationally relevant students."
Caption: Alison Allen from Antrim, Course Director John Thompson, Alison Allen from Antrim, Jim Eastwood from 'Apprentice' and Vice-Chancellor, Professor Richard Barnett